Chocolate Kiss Cookies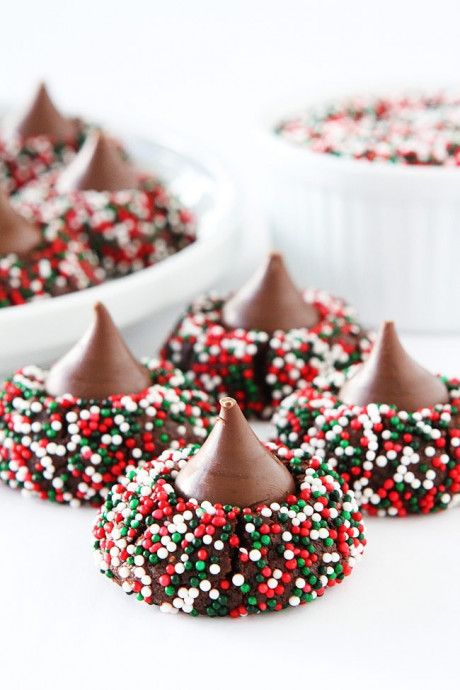 Chocolate Kiss Cookies-decadent chocolate cookies rolled in sprinkles and topped with a chocolate kiss. A fun cookie for the holidays or any occasion! The cookies are very decadent, thanks to the rich chocolate cookie base and the chocolate kiss on top. Make sure you have a glass of cold milk nearby…and make sure you leave a glass for Santa too. I have a feeling Santa will LOVE these cookies.
And these chocolate kiss cookies aren't just for Christmas. You can make them year round by changing up the sprinkles. You can use red, white, and pink sprinkles for Valentine's Day, green sprinkles for St. Patrick's Day, pastel sprinkles for Easter, or rainbow sprinkles for birthdays!
You could also use different flavored kisses in the center. Candy cane, mint, Hugs, almond…use your favorite! These fun cookies are perfect for any occasion!
Ingredients:
1 cup all-purpose flour
1/2 cup Dutch process or unsweetened cocoa powder
1/4 teaspoon salt
1/2 cup unsalted butter, softened
2/3 cup granulated sugar
1 egg yolk, at room temperature
2 tablespoons milk
1 teaspoon pure vanilla extract
3/4 cup nonpareil sprinkles
25 Hershey's Kisses, unwrapped