Vinegar Coleslaw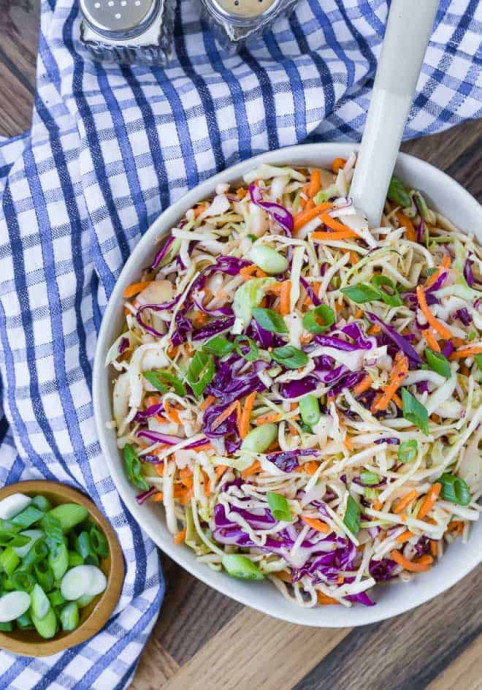 Tangy vinegar coleslaw is crunchy and bursting with color and flavor. With a mayonnaise-free dressing, this coleslaw is a healthy alternative to creamy coleslaw. Isn't this a beautiful colorful salad? I love the purple, green, and orange explosion of color. It's like fireworks in a bowl!
The flavors of vinegar coleslaw explode in your mouth, as well. Maybe I'm carrying the "explosion" theme too far, but really, I can't say enough about this colorful and flavorful coleslaw. I'm getting a bang out of all these adjectives and I'm just bursting to tell you about this recipe. All right, that really is too much, isn't it? I'll chill out.
Speaking of chilling out, vinegar coleslaw is a perfect make ahead recipe. This coleslaw actually tastes better if it spends some time chilling in the fridge, at least an hour but up to a week. It's almost like a quick cabbage pickle.
Coleslaw has been around for eons, back to Roman times. Since mayonnaise is relatively new on the scene, the first coleslaw recipes probably were similar to this vinegar-based one. The ingredients are simple and it keeps well. The Romans probably kept it in stone jugs or something.
While I love creamy coleslaw, there's definitely a place in my heart for vinegar coleslaw. Lower in calories and fat, with loads of nutrition (all that cabbage and carrots!), it's a win-win. You're going to love it!
Ingredients:
6 cups shredded cabbage, approx. 1/2 head of cabbage (see note)
2 cups shredded red cabbage
1 1/2 cups shredded (or matchstick) carrots (about 2 large carrots)
1/3 cup thinly sliced green onions (about 3 green onions)
Dressing:
1/3 cup apple cider vinegar
3 tablespoons grapeseed oil (olive, canola or vegetable)
1 tablespoon agave (or honey or granulated sugar)
1 tablespoon Dijon mustard (we recommend the grainy kind)
1 teaspoon celery seed
1 teaspoon kosher salt
1/2 teaspoon coarse ground black pepper