Florentine Omelette With Spinach and Cheese Recipe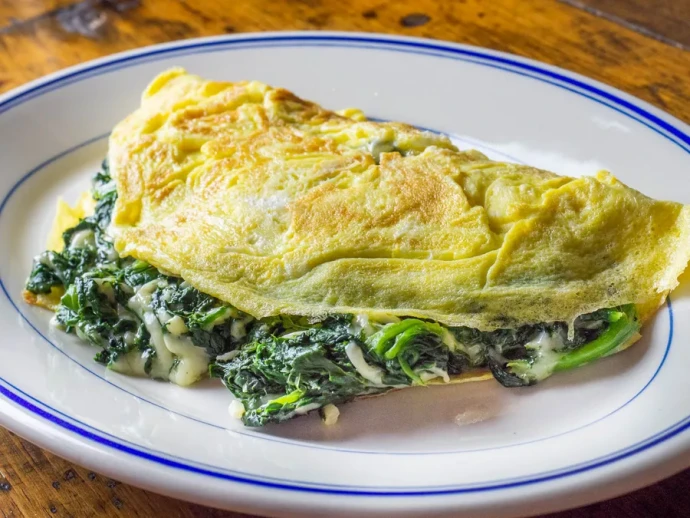 In the world of cooking, dishes labeled "Florentine" almost always feature spinach, so it's no surprise that that's the calling card of this classic omelette. To round out all those healthy green leaves is a generous amount of melted Gruyere or Swiss cheese, but don't let the short ingredient list fool you: This omelette is packed with flavor. It's also, in the case of this recipe, packed with a truly generous amount of filling, which makes this five-egg omelette a meal that can easily fill two people, if not more.
There are just a couple keys to success. First, this recipe uses the basic rules of the classic American omelette. For the filling, there are few things to keep in mind. First, mind your spinach: We strongly prefer cooking with Savoy (or curly) spinach rather than baby spinach and other flat-leaf varieties. Savoy spinach retains some semblance of texture even when it's been cooked until extremely tender, which is something flat-leaf types of spinach can't say for themselves (they cook down to an unfortunately slick and slimy texture). Frozen spinach works well in this recipe too, and unlike fresh curly spinach, it doesn't need to be washed thoroughly to rinse away sandy grit before cooking.
Whether you decide to use fresh or frozen spinach, after cooking you'll want to squeeze out excess moisture in order to avoid ending up with a watery omelette. And no matter what kind of spinach or cheese you choose, this omelette makes an excellent breakfast, brunch, lunch, or even dinner.
Ingredients:
5 large eggs
Kosher salt and freshly ground black or white pepper
3 1/2 ounces (100g) grated Gruyère or Swiss cheese
2 tablespoons (30g) unsalted butter, divided
2 medium cloves garlic, minced
1 pound (450g) fresh Savoy spinach, thoroughly washed, or 10 ounces (283g) defrosted frozen spinach