Glossy Fudge Brownies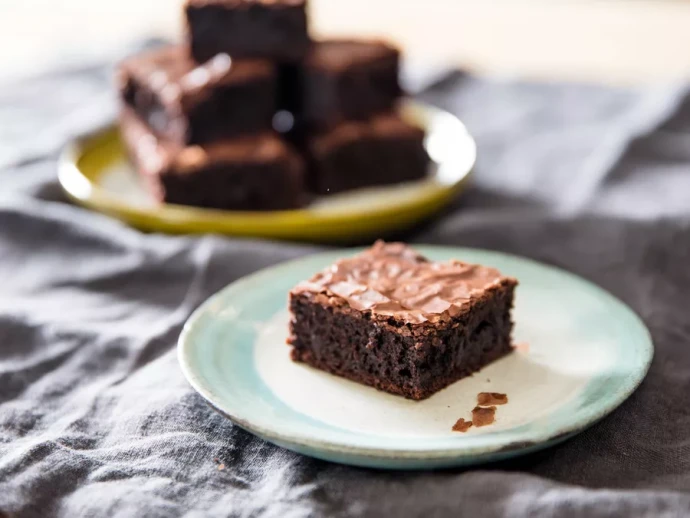 They're hefty squares of chocolate, to be sure, but fudgy rather than gooey, with just a little bit of chew and a shimmery, paper-thin crust on top. As befits their name, brownies are all about brown ingredients, like dark chocolate, Dutch cocoa powder, and brown sugar. My recipe adds one more—brown butter. It's a simple way to layer in more flavor, with a bit of nutty richness to underscore the earthy chocolate.
Brown butter adds a nutty richness that deepens the chocolate flavor.
Thickly foamed eggs lighten the batter, for brownies that are fudgy, not overly dense, and that form a glossy, flaky crust on top.
Cocoa powder reduces the need for flour, making the brownies especially flavorful and tender.
The cocoa butter in dark chocolate gives the brownies a lingering richness.
An aluminum pan helps the brownies bake quickly and evenly, without the extended timeline associated with baking in glass or the risks of over-baking in nonstick pans.
Ingredients:
12 ounces unsalted butter (about 3 sticks; 340g)
6 ounces finely chopped dark chocolate, about 72% (about 1 cup; 170g)
16 ounces granulated sugar (about 2 1/4 cups; 450g)
2 ounces light brown sugar (about 1/4 cup, packed; 55g)
1 3/4 teaspoons (4g) Diamond Crystal kosher salt; for table salt, use about half as much by volume or the same weight
6 large eggs, straight from the fridge (about 10 1/2 ounces; 295g)
1/2 ounce vanilla extract (about 1 tablespoon; 15g)
1 teaspoon instant espresso powder, such as Medaglia d'Oro (optional)
4 1/2 ounces all-purpose flour, such as Gold Medal (about 1 cup, spooned; 125g)
4 ounces Dutch-process cocoa powder, such as Cacao Barry Extra Brute (about 1 1/3 cups, spooned; 115g)