Gluten-Free Pumpkin Cake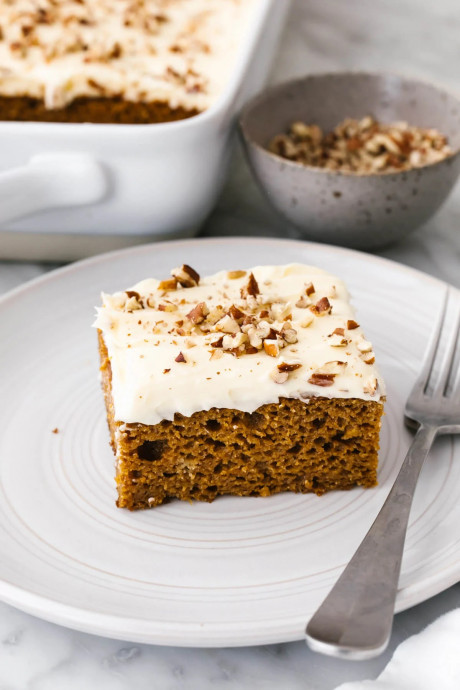 This is the most amazing gluten-free pumpkin cake recipe (if I do say so myself) for the holidays. It's soft and moist with just the right amount of sweetness and pumpkin flavoring. And the luscious cream cheese frosting really takes it over the top.
Don't be fooled by the word gluten-free, because this pumpkin cake is anything but dry and bland. Instead, it's a pumpkin riff on everyone's favorite paleo chocolate cake that's incredibly light, airy, and SO moist. I'm swapping cacao powder for creamy pumpkin puree, gliding a cream cheese frosting across the top, and sprinkling chopped pecans for a nutty, festive touch. Trust me when I say this tastes just as good as it sounds.
It's also a lot easier to make than you think! Just whip up the cake batter, pour it into a pan, pop it in the oven, and make the frosting while you wait for it to cool.
This gluten-free pumpkin cake has my usual triumvirate of flours, plus a few extra ingredients you might need to pick up – such as pumpkin puree, cream cheese, and powdered sugar. Here's what you'll need.
Ingredients:
DRY INGREDIENTS
2 cups almond flour
⅔ cup tapioca flour
2 tablespoons coconut flour
1 ½ cups coconut sugar
1 tablespoon pumpkin spice
2 teaspoons baking soda
1 teaspoon kosher salt
WET INGREDIENTS
4 large eggs
1 (15-ounce can) pumpkin puree
1/4 cup coconut oil
1 tablespoon apple cider vinegar
1 teaspoon vanilla extract
CREAM CHEESE FROSTING
8 ounces cream cheese, room temperature
½ cup butter , room temperature (usually one stick)
1 teaspoon vanilla extract
3 cups powdered sugar (confectioners' sugar)
Optional: chopped pecans for the top