Feta and Roasted Red Pepper Dip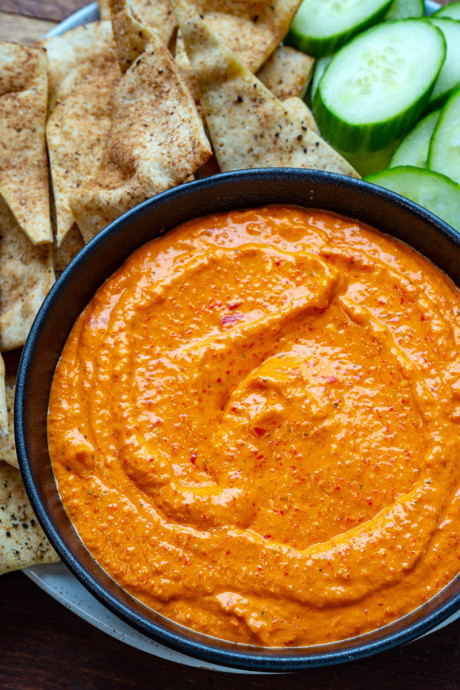 A creamy feta cheese dip with roasted red peppers!
Htipiti (or tirokafteri or tyrokafteri or tyrokavteri) is a Greek style whipped feta cheese and roasted red pepper dip or spread and with the holiday season on us I just had to whip up a batch! At it's base this dip typically consists of feta, Greek yogurt, roasted red peppers, lemon juice and garlic and it is all pureed or whipped into a dip. I tend to serve this Greek roasted red pepper and feta dip with toasted pita chips but veggies are also great for scooping!
One of the great things about this dip is that you can easily change up the flavours by adding things, like sundried tomatoes, balsamic vinegar, sriracha, roasted jalapenos, cream cheese, mayonnaise, etc.
Ingredients:
4 ounces feta, room temperature
1/4 cup greek yogurt (optional)
1/2 cup roasted red peppers
1 clove garlic, minced/grated
2 teaspoons lemon juice
1/2 teaspoon oregano
1/2 teaspoon smoked paprika
1/2 teaspoon pepper
1/8 teaspoon cayenne (optional)