Sunny Lemon Bars Recipe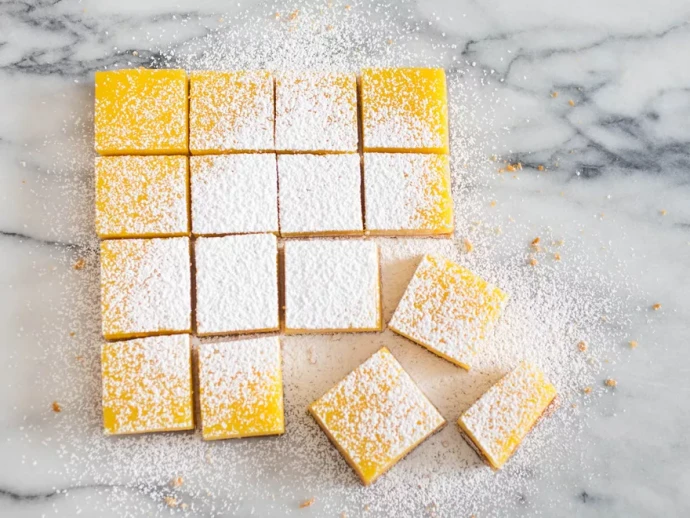 These lemon bars are just amazing! This version is barely sweetened, speckled with lemon zest, and buttery but light—like a classic sugar cookie crossed with lemon shortbread. Blitzing the crust ingredients in a food processor coats the flour in fat, minimizing gluten development for a light and tender result.
Cooking on the stovetop allows for precise control of the custard's final temperature, preventing soft or runny bars.
Straining removes lumpy bits, keeping the custard silky-smooth.
A brief stint in the oven smooths the custard into an even layer with a glossy top.
Ingredients:
For the Crust:
4 1/2 ounces (1 cup; 130g) all-purpose flour
2 ounces (1/2 cup; 60g) powdered sugar, preferably organic
1/4 teaspoon (1g) Diamond Crystal kosher salt; for table salt, use the same weight or half as much by volume
1/8 ounce (1 tablespoon; 4g) freshly grated lemon zest
4 ounces (1 stick; 115g) cold unsalted butter, cut into 1/4-inch dice
For the Custard:
9 1/2 ounces (1 1/3 cups; 270g) granulated sugar
3 large eggs, cold
4 3/4 ounces (1/2 cup; 135g) egg yolks, from about 8 large eggs
1/4 ounce (1 packed tablespoon; 8g) freshly grated lemon zest
Pinch of kosher salt
11 ounces (1 1/3 cups; 310g) lemon juice, from about 8 large lemons (see note)
For Garnishing:
2 ounces (1/2 cup; 55g) powdered sugar (optional)
6 ounces (1 cup; 170g) Lemon Chantilly (optional)
5 ounces (1 cup; 140g) Crispy Citrus-Candied Pistachios (optional)