Butter-Baked Saltines with Chili-Crisp Yogurt Dip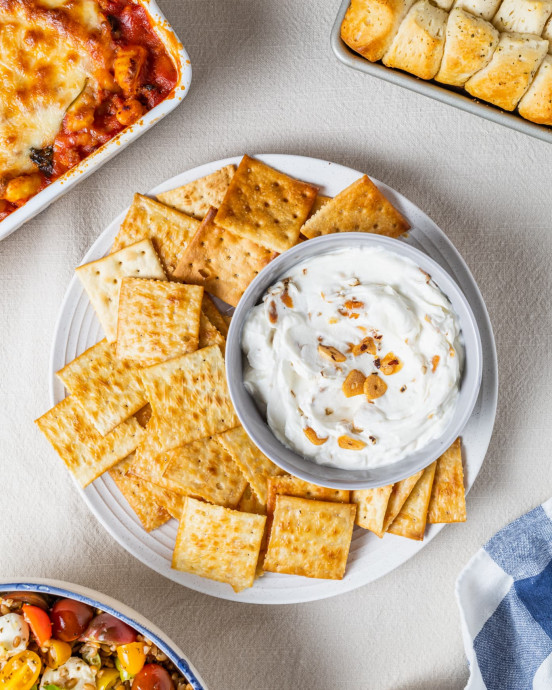 Want to be the hero of your next potluck? You've come to the right place. This buttery Saltine upgrade and spicy, garlicky dip is so knock-your-socks-off good that everyone will be begging for the recipe. It feels familiar and fancy all at once, and packs a surprising amount of flavor. And yet, if you start with store-bought chili crisp, you could whip up this dish 10 minutes before the party starts.
That's part of what makes this the ultimate potluck appetizer: You can make it at the last minute, it's easy to transport, it can be served at room temperature (for up to two hours), it's inexpensive to make, and everyone loves it.
Ingredients:
For the chili crisp:
2 heads garlic
1 cup canola oil
1 (1-inch) piece fresh ginger
1/2 cup olive oil
1/4 cup red pepper flakes
2 teaspoons low-sodium soy sauce or tamari
1 teaspoon granulated sugar
1/4 teaspoon ground cinnamon
For the butter saltines:
8 tablespoons (1 stick) unsalted butter
2 sleeves saltine crackers (about 48 crackers)
For the yogurt dip:
1 cup full-fat plain Greek yogurt
1/4 cup chili crisp