Grilled Chicken Caesar Pasta Salad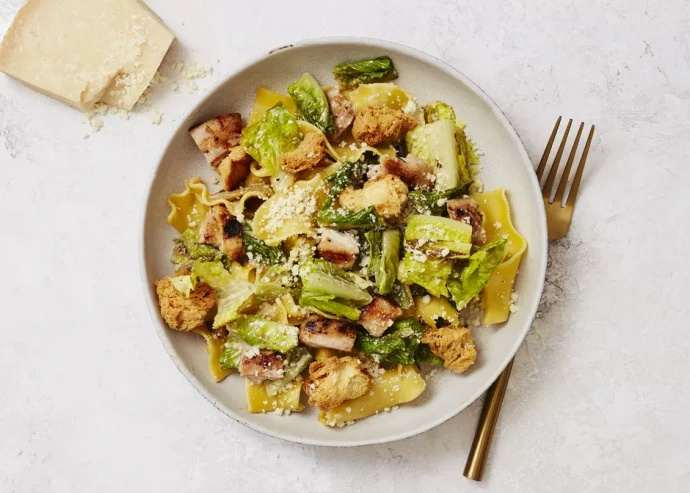 Take your salad game up a notch by firing up the grill. This dish might take a little longer than your average pasta salad, but the extra effort is definitely worth it. The distinct smoky char of grilled romaine adds an earthy dimension to the brilliant combination of Caesar dressing, chicken, and pasta. It turns the classic salad into a main dish fit for a dinner party but simple enough for a family meal.
Grilled romaine lettuce, freshly grilled skinless chicken thighs, and al dente stracci pasta (the kind of pasta that looks like little handkerchiefs) are tossed in homemade Caesar dressing and topped with toasted brioche croutons and grated cheese. The anchovy paste in the dressing is not optional—the flavor of anchovy is essential to proper Caesar dressing. That said, this pasta salad is secretly all about the cheese. Get real Parmigiano-Reggiano if you can.
Ingredients:
For the Dressing:
1 large clove garlic, grated or minced
1 egg yolk
1 tablespoon fresh lemon juice
1/2 teaspoon anchovy paste
1/2 teaspoon Dijon mustard
1/2 teaspoon Worcestershire sauce
1/3 cup olive oil
1/2 cup grated Parmigiano-Reggiano cheese
Salt (to taste)
Fresh ground pepper (to taste)
For the Salad:
3 ounces brioche bread, torn into bite-size pieces
8 ounces cooked stracci pasta, cooled
8 ounces grilled boneless, skinless chicken thighs, chopped into 1/2-inch pieces
2 grilled romaine hearts, halved and roughly chopped
1/4 cup grated Parmigiano-Reggiano cheese