Warm Couscous Salad With Salmon and Mustard-Dill Dressing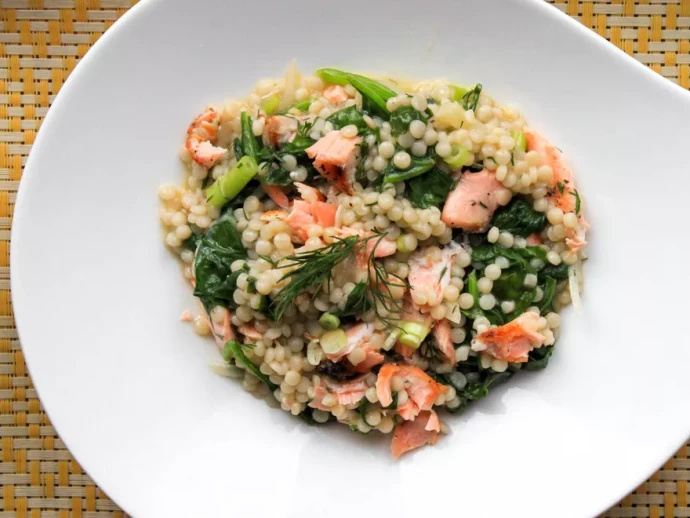 Flakes of salmon and wilted spinach add body and flavor to this warm couscous salad that's seasoned with mustard and dill. Ready in under 30 minutes, it's perfect for a quick weeknight meal or picnic lunch. Why this recipe works: Cooking the salmon first allows it to rest while the couscous cooks. Making the dressing in the serving bowl means one less dish to wash.
Serving the dish while still hot makes for a great weeknight meal, but it tastes equally delicious chilled. Especially when you're eating it while sitting on a picnic blanket in the middle of a breezy park meadow.
Ingredients:
2 (8-ounce) salmon filets, preferably wild
Kosher salt and freshly ground black pepper
1/3 cup plus 2 tablespoons extra-virgin olive oil, divided
1 medium shallot, thinly sliced
6 ounces pearled couscous
3 cups homemade vegetable stock or store-bought low-sodium vegetable broth
2 tablespoons Dijon mustard
2 tablespoons fresh juice from 1 lemon
1/2 cup picked dill, roughly chopped, plus more for garnish
1 1/2 cups spinach leaves, chopped in half if large, or left whole if baby