Peanut Butter Truffles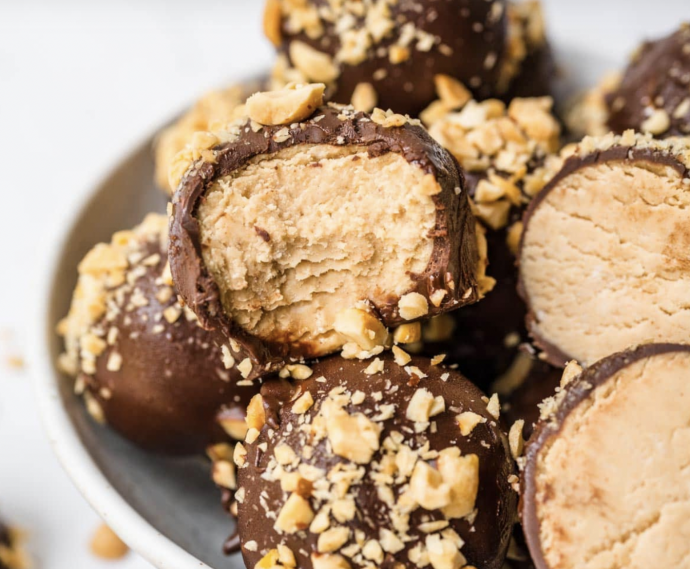 Peanut Butter Truffles are easy no-bake peanut butter balls with powdered sugar, butter, and vanilla, and covered in peanuts. A peanut butter lovers dream!
Easy no-bake sweet treats like Buckeye Balls are a go-to Snack during the holidays. These simple peanut butter balls are just as easy and sweet, with a crunchy twist!Sweet chocolate peanut butter balls, aka Buckeye balls, are one of the easiest and most addicting candies you can make! They are like little pops of chocolate peanut butter goodness, plus you don't have to fire up an oven to make them. These all-peanut butter versions are just as easy to make and just as satisfying when you have a salty sweet craving.
One of the best things about these delicious Peanut Butter Truffles is they are made with simple ingredients you definitely have in your pantry. All you need to make these tasty homemade treats is smooth peanut butter, powdered sugar, softened butter, vanilla extract, chocolate chips, and salt. The crushed nuts are an extra touch, but these are still delicious without them.
Ingredients:
2 1/2 cups powdered sugar
1 cup peanut butter , do not use natural
5 tablespoons unsalted butter , softened
1 teaspoon vanilla extract
1/4 teaspoon kosher salt
1 cup semi-sweet chocolate chips , melted
1/2 cup peanuts , minced finely