Parmesan Baked Cod Recipe With Lemon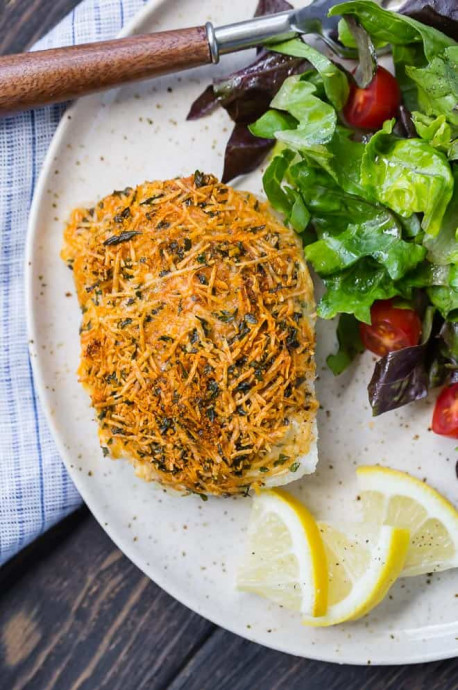 Mild tasting cod encased in a flavorful, crispy crust, this Parmesan baked cod is a simple and delicious way to add healthy seafood to your weekday menu. High in protein and low in fat, inexpensive cod is a great choice.
Cod is a mild tasting white fish that easily adapts to a variety of cooking methods. It can be baked, fried, poached, broiled, or steamed. Use its mild flavor as a base for delicious seasonings and sauces. I love cod in these stunning fish tacos with blood orange salsa.
I purchase cod fillets at the meat counter of my grocery store. Using frozen cod is okay but I find that it tends to be more watery.To prepare, rinse each fillet, pat dry thoroughly with paper towels, and cut into serving size pieces.
For this easy recipe, spread a little mayonnaise on each fillet before lightly coating it with a mixture of shredded Parmesan cheese, parsley, lemon zest, and paprika. Place the cod fillets on a baking rack set on a sheet pan for added crispness. Pop them in the oven for 20-25 minutes, until the coating is crispy and the fish is done. So simple and delicious. Don't you think they look really great, too?
Serve the Parmesan baked cod fillets with a wedge of lemon and a sprinkling of fresh parsley.
Ingredients:
4 boneless cod fillets (about 4 oz. each)
2 tablespoons mayonnaise
½ cup freshly grated Parmesan cheese
1 tablespoon dried parsley
1 teaspoon lemon zest
½ teaspoon sweet paprika
¼ teaspoon coarse ground black pepper
Optional: lemon wedges for serving