Chicken Florentine Salad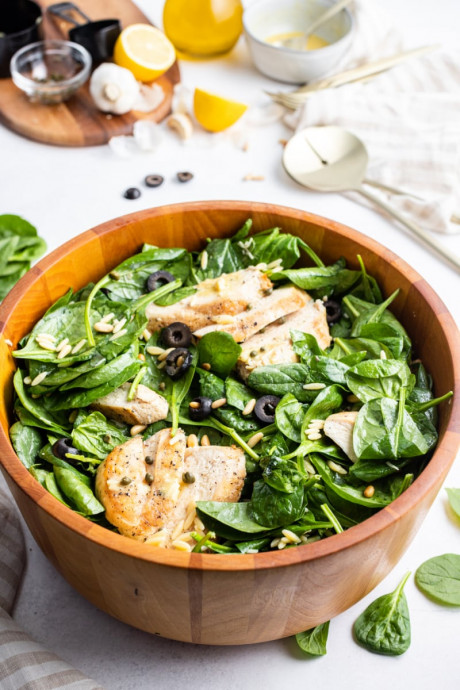 This Chicken Florentine Salad is the best spinach salad recipe with a wonderful lemon parmesan vinaigrette! When you're searching for a delicious main dish salad, this is a good one to try. There are plenty of flavors in this chicken florentine salad, and it's filling too. There's a little pasta added in (not a lot), but it's enough to give you some sustenance along with the chicken so you can feel like you're getting a complete dinner.
The dressing for this salad is so yummy. It properly gives the spinach the perfect amount of moisture to let it soak up the flavors but still stay fresh and crisp. This is one delicious salad. Enjoy!
Ingredients:
2 tablespoons freshly squeezed lemon juice
1 teaspoon Dijon mustard
½ medium garlic clove, minced
¼ cup extra virgin olive oil
1 tablespoon freshly grated Parmesan cheese
Four 6-ounce chicken breasts (grilled, cooled and thinly sliced)
½ cup pine nuts, toasted
¼ cup sliced black olives
3 tablespoons capers, drained and rinsed
6 ounces baby spinach leaves
1 cup cooked orzo (drained, rinsed and cooled to room temperature)