Best Vegan Mushroom Garlic Alfredo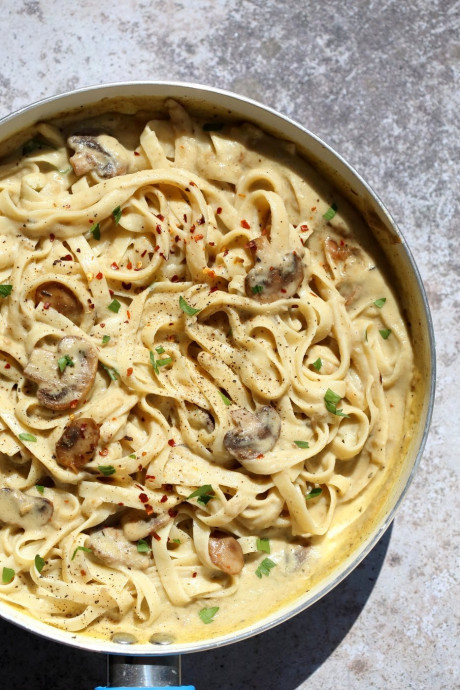 This Fettuccine Alfredo packs a flavor punch with the browned mushrooms, wine, herbs, and creamyness from cauliflower, potato and hemp seeds.
Mushrooms add an amazing flavor. They are cooked to caramelize with onions then simmered with wine and vegan worcestershire sauce. The alfredo is blended up and added to simmer with the browning mushrooms, so the sauce picks up that caramelized flavor. Delicious, Smooth and amazing. Garnish with fresh basil and pepper flakes and serve.This Alfredo is Easy, Creamy, Flavorful!Garlicky, Creamy, Amazing Vegan Fettuccine Alfredo. Nut-free, Easily Gluten-free, soy-free. 21 gm of protein per serving!
Ingredients
1 tsp olive oil
1/2 medium onion chopped
7 cloves garlic minced
8 oz mushrooms white or a mix of white, cremini, portobello
1 tbsp or more dry white wine
1 tbsp vegan worcestershire sauce or use 2 tsp soy sauce (coconut aminos for soyfree), 1/2 tsp apple cider vinegar, 1/2 tsp molasses
1/4 tsp thyme
1/4 tsp or more red pepper flakes
Alfredo:
8 to 10 oz Fettuccine
1 cup (100 g) cauliflower florets heaping cup of florets
1 small potato cubed small
2 tbsp hemp seeds or pumpkin seeds , or use raw cashews (soaked) for even more creamier
1/4 tsp (0.25 tsp) onion powder
1/4 tsp (0.25 tsp) garlic powder
2 tsp lemon juice
3/4 tsp salt
1/2 tsp dried basil or a handful of fresh
1 tbsp nutritional yeast
1 tbsp extra virgin olive oil
1 cup (250 ml) water
generous dash of black pepper