Pumpkin Crumb Cake Muffins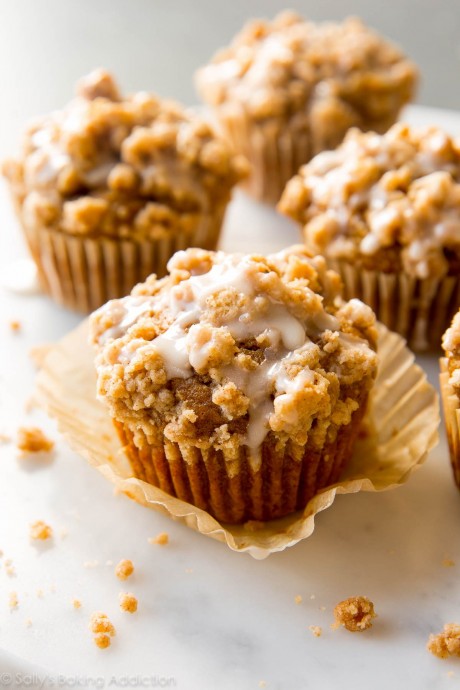 These super soft pumpkin crumb cake muffins are topped with pumpkin spice crumbs and finished with sweet maple icing. They're a reader favorite and after baking one batch, you'll understand why!
Underneath pumpkin spice crumbs (!!) there's an irresistible pumpkin cake– and I, for one, cannot resist anything pumpkin. Both the muffin itself AND the crumbs are equally awesome. There's absolutely no picking the crumbs off these orange beauties. Top the pumpkin muffins with a little maple icing and there's basically no need for any other breakfast food.
The batter of these muffins is based off of my pumpkin bread— it's so delicious! They are easy to make with no mixer required and are ready in less than one hour.
Topped with pumpkin spice crumbs and sweet maple icing, these muffins are soft and moist thanks to power ingredients like pumpkin, oil, eggs, and milk.
Packed with warm and cozy fall spices like cinnamon, nutmeg, and cloves, these pumpkin muffins are perfect for breakfast, snack, or dessert.
Ingredients:
1 and 3/4 cups (220g) all-purpose flour
1 teaspoon baking soda
2 teaspoons ground cinnamon
1 teaspoon pumpkin pie spice*
1/2 teaspoon salt
1/2 cup (120ml) canola or vegetable oil
1/2 cup (100g) granulated sugar
1/2 cup (100g) packed light or dark brown sugar
1 and 1/2 cups (340g) canned pumpkin puree
2 large eggs, at room temperature
1/4 cup (60ml) milk, at room temperature*
3/4 cup (94g) all-purpose flour
1/4 cup (50g) granulated sugar
1/4 cup (50g) packed light or dark brown sugar
1 teaspoon pumpkin pie spice*
6 Tablespoons (86g) unsalted butter, melted
1 and 1/2 cups (180g) confectioners' sugar
2 Tablespoons (30ml) pure maple syrup
2 Tablespoons (30ml) milk*