Baked Apples with Brandy-soaked Raisins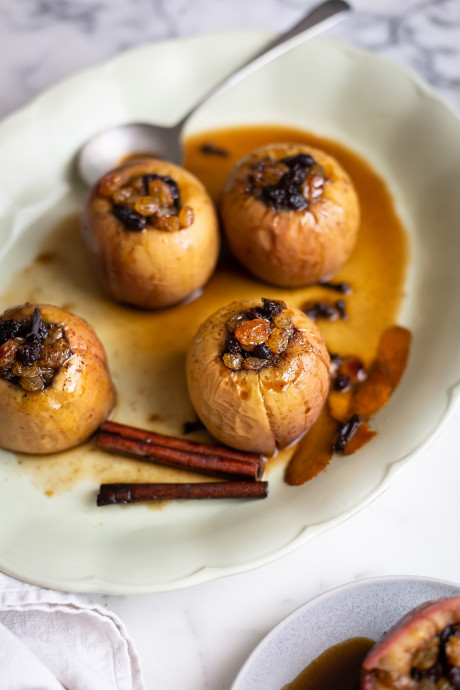 This is a lovely and easy festive recipe and your home will be filled with the smells of cinnamon and cloves. Plump up the raisins in boiling water first then soak them in brandy.
Any leftover fruit and liquid make a delicious syrupy sauce to pour over the baked apples.
Serve with vanilla ice cream. The easiest way to core and hollow out the apples without cutting all the way through is to uses a melon baller / Parisienne scoop. Simply scoop down as far as you need and remove some of the inner flesh of the apple (but not too much).
Ingredients:
4 large apples such as Golden Delicious or Pink Lady
1 cup of raisins & sultanas
¼ cup brandy
3 Tbs dark brown sugar plus extra to sprinkle
1 tsp cinnamon
¼ tsp ground cloves
½ cup freshly squeezed orange juice
¼ cup water
A few extra whole cloves
4 thick strips of orange peel
1 – 2 whole sticks of cinnamon (optional and for garnish)