Classic German Sauerbraten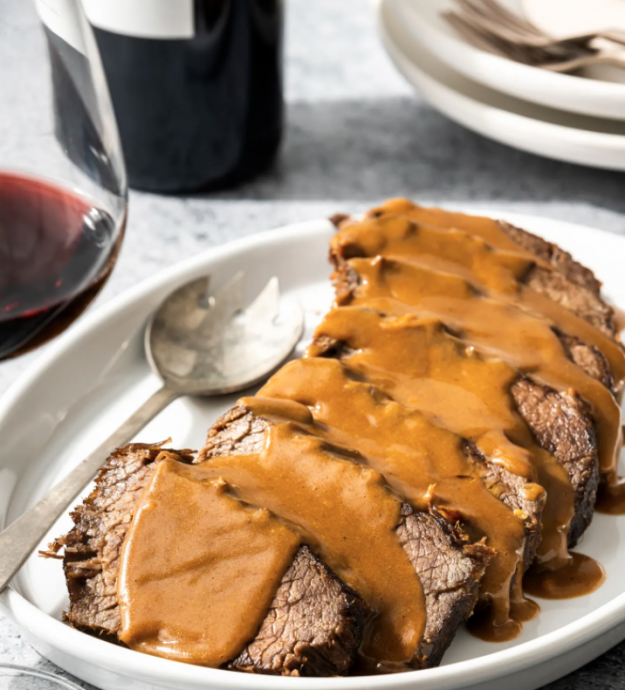 Sauerbraten is a German dish meaning "sour" or "pickled" roast meat. Rump roast or top round of beef is marinated for several days in a vinegar and spice mixture. This tenderizes and flavors the beef.
While the vinegar, herb, and spice blend can seem strong at first, this potent marinade is perfect for tougher cuts of meat. The vinegar, along with a lengthy marinating time, tenderizes the meat, resulting in slices of roast beef that practically melt in your mouth. Traditionally sauerbraten is served with a gravy that has been thickened and flavored with crushed gingersnap cookies. The result is a hearty meal that families have loved for generations.
A sauerbraten dinner is delicious when served with potato pancakes, potato dumplings, mashed potatoes, or spätzle. A side of German cabbage is also a wonderful accompaniment.
Ingredients:
1/2 small yellow onion
1 cup red wine vinegar
1 1/2 cups beef broth, divided
2 bay leaves
1 tablespoon paprika
6 whole cloves
1/2 teaspoon dried thyme
3 pounds beef top round
1/2 cup all-purpose flour, divided
3 tablespoons unsalted butter
1 small carrot
1 small parsnip
1 stalk celery
5 gingersnap cookies
1 teaspoon kosher salt
1/4 cup dry red wine