Herb Baked Chicken Breast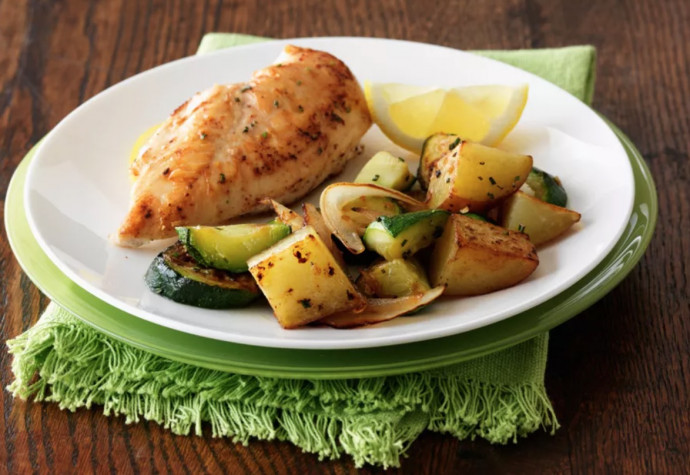 These baked chicken breasts are flavored with an herb, lemon, and garlic marinade. They make a great centerpiece for a healthy dinner for your family or guests.
The marinade contains the acid, oil, and seasonings that will add flavor to the poultry. It can also be used for grilled or broiled chicken.
When marinating chicken, you don't want it to go too long or the chicken can become mushy. Two to four hours is plenty of time for the marinade to work its magic. The marinade will also be used to baste the chicken while it is baking. Because the raw chicken will transfer potentially dangerous bacteria to the marinade, you will boil it before using it for basting.
Feel free to use your own combination of herbs. Fresh chopped herbs are a good choice, but you can use dried herbs if that is what you have available. Do get a fresh lemon to use for zest and freshly-squeezed lemon juice for the marinade.
Ingredients:
4 to 6 chicken breast halves (bone-in)
1/4 cup extra virgin olive oil
1/2 cup green onion (minced)
2 cloves garlic (minced)
1 tablespoon fresh rosemary (chopped, or 1 teaspoon dried rosemary)
1 tablespoon fresh dill (chopped)
1/2 teaspoon dried tarragon
1/2 cup lemon juice (fresh)
1/8 teaspoon black pepper (coarsely ground)
1 tablespoon lemon zest (zest of one lemon)