Cilantro and Lime Salmon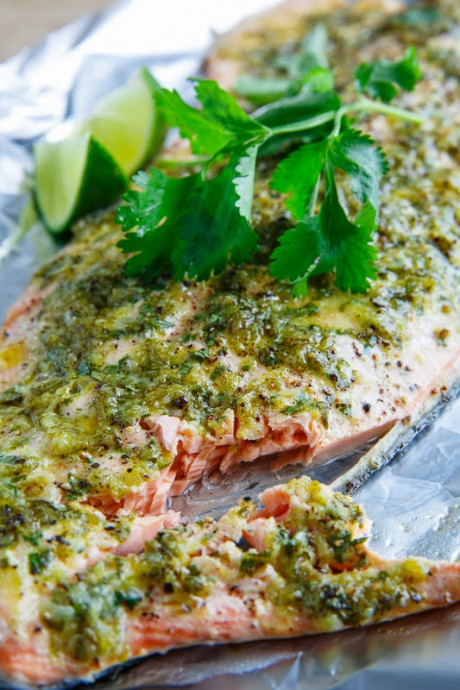 A quick and easy salmon fillet baked with a tasty cilantro and lime sauce.
I have been on a salmon kick lately and up next is this super quick, easy and tasty cilantro and lime salmon! Cilantro and lime has to be one of my favourite flavour combinations, which I use it on pretty much everything, and when I saw a similar recipe for a spicy garlic lime baked salmon on A Spicy Perspective I realized that it was past time that I gave salmon the cilantro and lime treatment!
This recipe could not be easier, you simply make the sauce, spread it on the salmon and bake or grill it for 10 minutes and you are in cilantro and lime flavoured salmon heaven! The cilantro and lime sauce is basically the same as my cilantro and lime vinaigrette, which is amazing on pretty much everything, and it comes together in less than 5 minutes making this dish perfect for even the busiest of nights but it's so good that it is sure to impress any dinner guests!
Ingredients:
2 tablespoons oil
1 lime, juice and zest
2 tablespoons cilantro, coarsely chopped
1/2 jalapeno, coarsely chopped (optional)
1 clove garlic, coarsely chopped
salt and pepper to taste
2 pound salmon fillet