Instant Pot Pasta and Meatballs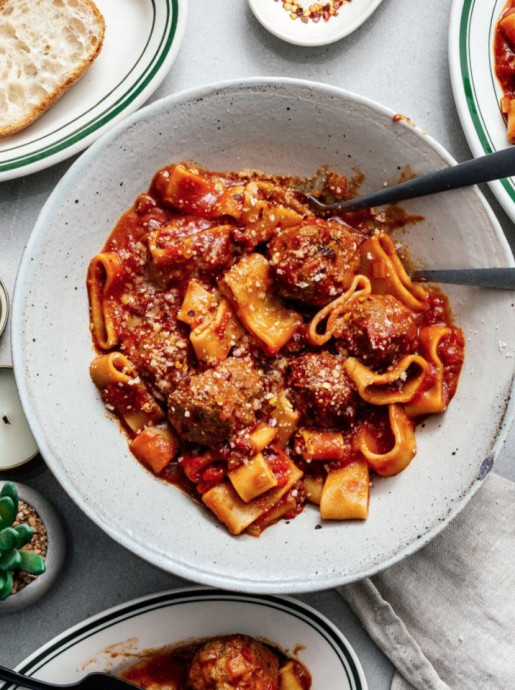 Is this recipe super quick to make? Yes and no. It only needs 5 minutes on high pressure in your Instant Pot, but of course it takes time for your IP to come up to pressure. Also, you need to mix and roll out meatballs. But, you don't have to cook and drain your pasta and you don't have to worry about hanging out near the stove in case your tomato sauce starts splattering. Instead, you can do the prep, set it, and forget it. Or, you know, have a quick shower, change into comfy clothes and pour yourself a glass of wine or five.
This is a pretty easy recipe to make! All you do is dump the sauce ingredients, along with the pasta into the instant pot. Stir that all up, then mix up your meatballs, shape them, and place them right on top. On goes the lid, set it, then wait. When everything's done and you open up your pot, give it all a stir and you're ready to eat.
This is self care at it's finest. A saucy bowl of pasta and tender, juicy meatballs. The key to tender meatballs is the breadcrumbs. They help give it a soft, fall apart texture. If you want your meatballs really soft, add an extra egg – the extra moisture will loosen up the mix and make the meatballs even more tender. And yes, these are tender balls. No searing or browning here. Mostly because we're trying to save on time, but also because a braised meatball is somehow cozier than a browned one.
Ingredients:
Sauce
1 onion chopped
28 ounce can crushed tomatoes
2 tbsp tomato paste
1 tsp sugar
1/2 tsp garlic powder
salt and pepper to taste
8 ounces pasta of choice
Meatballs
1 lb ground beef
1/2 cup panko or breadcrumbs
1 large egg
1/2 tsp salt
1/2 tsp freshly ground pepper
1/2 tsp garlic powder