Power Greens Egg Skillet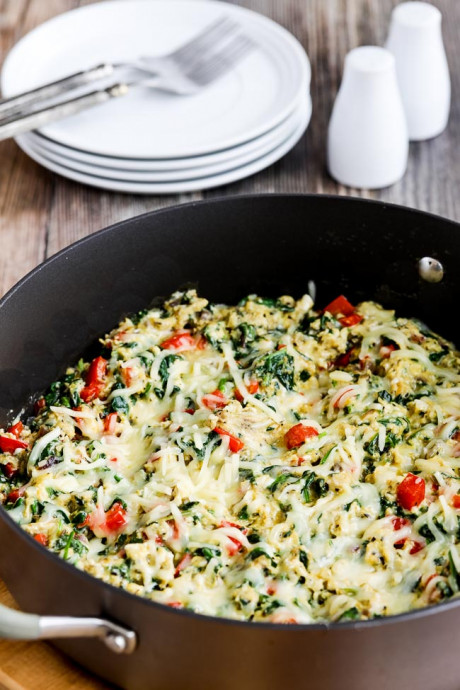 Power Greens Egg Skillet is a tasty one-pan low-carb and Keto breakfast with healthy greens, red bell pepper, red onion, basil, and cheese!
Easter is next weekend and eggs are on sale in supermarkets everywhere, and when eggs are plentiful and inexpensive, I want to urge you to make something fun using eggs. This Power Greens Egg Skillet is a cheesy egg dish that will be a hit with everyone who likes eggs, red peppers, and greens, so delicious!
This is pretty quick and easy to make and the leftover eggs reheated well, so I enjoyed it for breakfast for a few days after we came up with it. And I'm a big fan of the Power Greens mix, but you can use any type of fresh greens like spinach, kale, chard, or collards in this recipe. And if you're not a fan of greens, try Cheryl's Eggs without the greens!
Ingredients:
1 large red bell pepper
1/2 large red onion
1 T olive oil
2 tsp. dried basil
1 tsp. Spike Seasoning (or use any all-purpose seasoning that's good with eggs)
1 5 oz. pkg. Power Greens Mix
12 large eggs
1 1/2 cup grated Mozzarella Cheese