Potato Rosti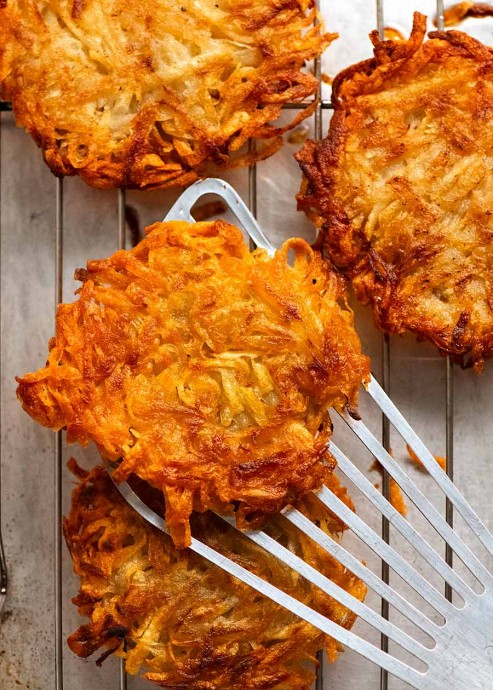 If you like your Potato Rosti crispy instead of soggy, and deep golden instead instead of burnt, don't skimp on the fat. If you want ultimate flavor, use clarified butter like the Swiss do instead of butter or oil – it's super easy to make your own. And if you want ultra ultra crispy, make small thin ones instead – they are literally potato crisp crispy! Rostis (or properly spelt rösti), which originate from Switzerland, typically are pan fried in a medium skillet then cut up to serve as a side dish for a meal.
Rosti is a really handy starch side dish that's cooked entirely on the stove when a centerpiece requiring exact cook times is hogging the oven. Of course, rosti also makes a wonderful addition to the breakfast table, whether in lieu of hash browns alongside bacon and eggs, or accompanying grander affairs like last week's Eggs Benedict. Though that's one ambitious breakfast spread, even I'll freely admit!
This recipe would probably serve 6 normal people, but in my family it serves 4. Makes 1 giant rosti about 4/5" thick, or 10 - 12 small rostis.
Ingredients:
2 lb potatoes
3/4 tsp salt
1/2 tsp finely ground black pepper
1 tbsp clarified butter / ghee or normal butter , melted
4 tbsp clarified butter / ghee , separated (sub half butter, half vegetable oil)