Stir-Fried Tofu with Eggplant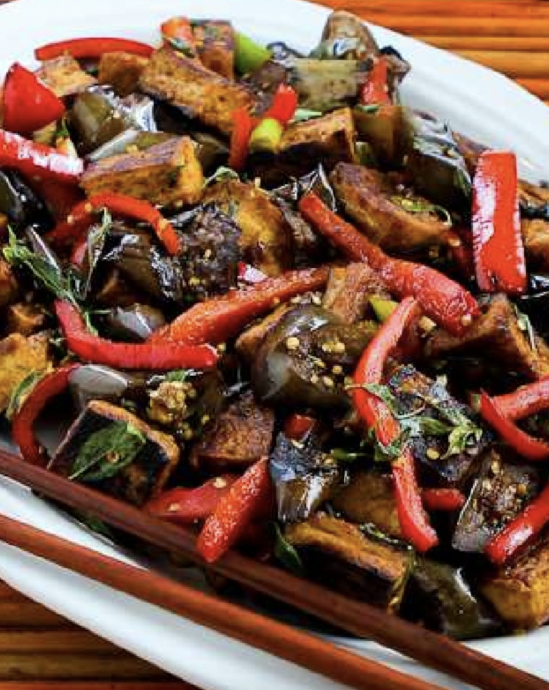 Stir-Fried Tofu with Eggplant is a low-carb meatless dish that's loaded with flavor from red pepper strips, Spicy Sriracha Sauce, and basil. And if you can make this with Thai Basil it will be even better!
I suspect this Stir-Fried Tofu with Eggplant has two strikes against it for some of you with tofu and eggplant being the main ingredients, but trust me when I say it was so delicious that it tasted like it came from a restaurant. And the sauce has just enough Sriracha Sauce (affiliate link) to make it interesting, and Thai Basil also bumps up the flavor here. You can also use regular basil (or leave the basil out completely if you don't have any basil)!
I'm not a vegetarian, but I do love vegetables, and I really enjoy tofu when it's firm and cooked well-done so it's slightly chewy. Jake and I made this several times to get the sauce ingredients and the timing just right, and if you're never cooked tofu (or eggplant) I bet you'll love this too if you give it a try.
Ingredients:
14 oz. firm or extra firm tofu
3 T peanut oil, divided
8 whole garlic cloves
6 thin Asian eggplants, cut into 1 inch diagonal slices
1 red bell pepper, cut into thin strips
1/2 cup thinly sliced green onion
3/4 cup Thai basil leaves
SAUCE INGREDIENTS:
2 1/2 T soy sauce
1 1/2 T fish sauce
1 T fresh-squeezed lime juice
1 T Golden Monkfruit Sweetener, or another sweetener of your choice
1 T Sriracha Rooster Sauce, or more