Creamy Shrimp Bisque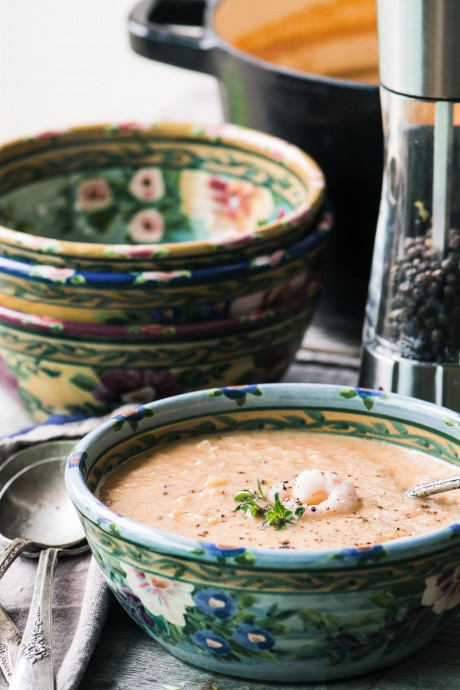 Creamy Shrimp Bisque ~ it's a little bit retro, a little bit 'ladies who lunch', but this delicious shrimp chowder is ready for a comeback! Enjoy it as an appetizer in small bowls, or as a light meal with a chunk of bread and a salad.
Seafood bisques are definitely of the last century, but that doesn't mean we should let them languish there. These elegant soups have so much to offer, from their creamy texture and beautiful pale pink color to their supercharged flavors. And while lobster and crab might be too pricey for everyday, shrimp is easy to come by and plentiful. Frozen shrimp is a completely acceptable option.
The bones of a good shrimp bisque are always the same no matter what recipe you go with ~ there's shrimp, of course, aromatic veggies, stock, cream, tomato paste, brandy, sherry, and a bit of spice. It's the little extra touches that distinguish one recipe from another, but you don't want to stray too far from tradition, because that's what makes this soup a classic.
Ingredients:
1 pound medium or large shrimp shelled and deveined, reserve the shells
2 leeks
3 Tbsp olive oil
2 cloves garlic
1/4 tsp cayenne pepper
1/4 cup cognac or brandy
1/4 cup dry sherry
4 Tbsp butter
1/4 cup flour
2 cups half and half
1/2 cup tomato paste
1 tsp salt or to taste
1 tsp freshly cracked black pepper
garnish
baby shrimp or chopped shrimp
thyme leaves