The Best Eggplant Patties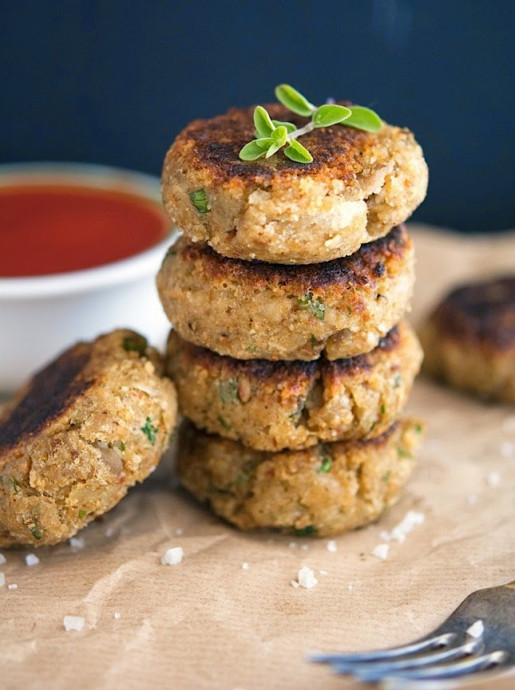 Today I want to be obnoxious and snobby.
So I labeled these patties as "the best".
To be honest, I always think it's very pretentious to name a recipe "the best" of anything.
Best means "of the most excellent or desirable type or quality"; so who can actually claim that something they've made is the best?
Unless you're Daniel Boulud or Ferran Adrià, then you probably can. Running a bunch of Michelin starred restaurant grants some of sort of authority in that department.
But for the rest of us - commoner cooks - it's better to take a more understated approach.
Something can be good, amazing, awesome, mouthwatering, but the best? That's too much.
However, sometimes you make something and you just knock it outta of the park. Just like that.
And there's no better way to describe what you've just made than "the best!"
This situation here is sort of the best eggplant patties I've ever had . Like, ever. So here we are with this super pretentious recipe title. Sorry folks.
Ingredients:
1 large eggplant (or 2 medium), peeled and diced
2 tablespoons olive oil, divided
1 small onion (or 2 scallions), thinly sliced
1 garlic clove, minced
1 cup / 3.5 oz / 100 gr grated Dubliner cheese (or sharp Cheddar)*
2 tablespoons chopped fresh parsley
1 teaspoon fine grain sea salt
¼ teaspoon ground black pepper
1 cup / 3.4 oz / 96 gr breadcrumbs (or GF breadcrumbs or almond meal)
*use vegan cheese to make them vegan