Strawberry Lemon Charlotte Cake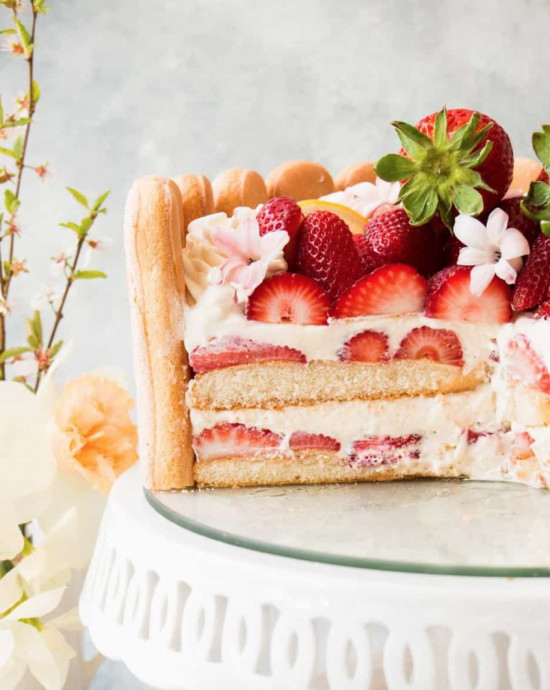 This beautiful strawberry lemon charlotte cake is filled with layers of softened ladyfingers, lemon cream, and fresh strawberries. It's soft and creamy, and bursting with flavor in every bite!
No baking AND no stovetop required – There is no heat needed for this recipe. You simply make the cream filling by beating all of the ingredients together, assemble the cake, and place in the fridge for a few hours. It's as easy as that!
Great make-ahead dessert – This cake needs a minimum of 4 hours or preferably overnight to chill and set in the fridge. This allows the ladyfingers to soften and turn into sponge cakes. It also allows for the cream filling to thicken and for the strawberries to soften and become even more flavorful.
Tastes AMAZING – This strawberry lemon charlotte cake is light and creamy with its lemon mascarpone mousse-like cream filling. It's soft and moist with its Limoncello-soaked ladyfingers and it's packed with ripe, juicy strawberries. The flavours are fresh and vibrant. It tastes like an elevated strawberry shortcake layer cake but it's half the work.
Ingredients:
4 dozen ladyfingers
1/4 cup Limoncello mixed with 1/4 cup water
1 cup (250g) mascarpone cheese
1/4 cup + 2 tbsp (75g) granulated sugar
1 tsp vanilla
zest of one lemon
1 cup (250ml) whipping cream
1 pint (454g/1lb) strawberries (washed, hulled, and cut in half)
Topping
1/2 cup whipping cream
1 tbsp sugar
1/2 tsp vanilla extract
1/2 pint strawberries (washed, some cut in half and some whole)