Hawaiian Scrambled Eggs with Cheese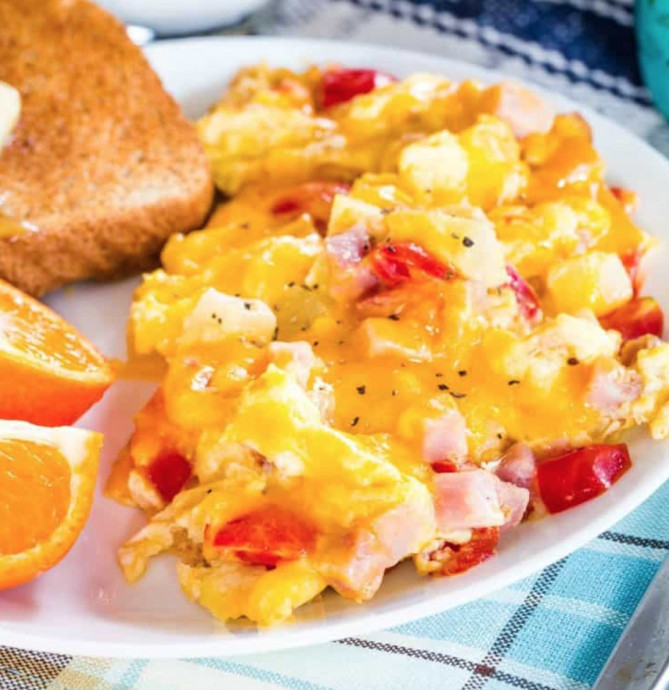 Hawaiian Scrambled Eggs are super fluffy scrambled eggs with cheese, ham, pineapple, and tomatoes. This scrambled eggs recipe is made without milk – read on to find out why! These are the best scrambled eggs you will ever eat and one of my favorite quick and easy dinner recipes (well, breakfast for dinner)! Easy, healthy, versatile, cheap, lots of protein – what could be better?! Except now, I have to make omelets for three, and I cannot work three pans at once (plus keep the toaster toasting).
I hate for someone to end up with a cold dinner. The solution – fluffy scrambled eggs with cheese, pineapple, ham, and tomatoes! Just scramble everything up together in one pan and in a few minutes, dinner is ready! These cheesy eggs with ham, tomatoes, and pineapple may sound like a crazy combination. But you are sure to love this rich and savory dish with just the perfect hint of sweetness. It makes a great breakfast or brunch, but we love it as breakfast for dinner. Once you try it, you'll be a believer!
Ingredients:
6 eggs
Kosher or coarse salt and freshly ground black pepper
3/4 cup diced ham about 4 oz.
1/2 cup diced pineapple
1/2 cup diced tomatoes
2 tsp unsalted butter
1/2 cup shredded cheddar cheese