Garlic Chicken Thighs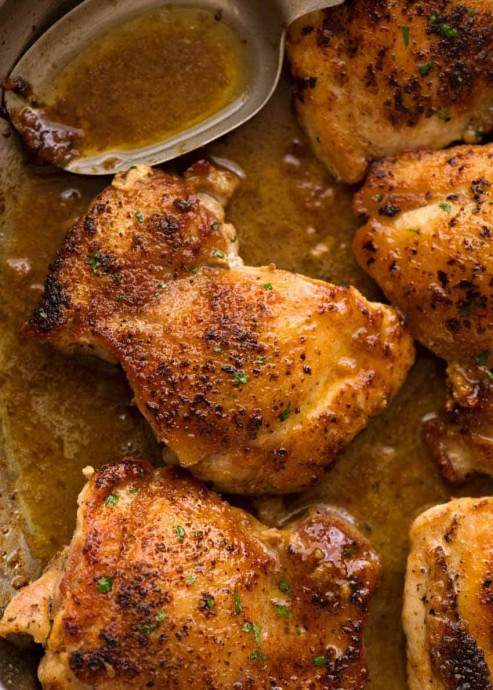 Quick chicken thigh recipes are midweek lifesavers, and these Garlic Chicken Thighs are one of my gold nuggets!
With a crispy, garlic crusted surface, juicy insides and a garlic butter sauce, this is a 5 ingredient boneless skinless chicken thigh recipe. It's almost unbelievable how outrageously delicious such an effortless recipe can be!
There's one key thing about this recipe that distinguishes it from most quick and easy chicken thigh recipes – these are crispy skinless chicken thighs. Crispy crust? With skinless chicken thighs? Here's the secret: garlic powder, salt and pepper sprinkled on the chicken thighs. Cook on a relatively low heat = deep golden, crispy crust with terrific savory garlic flavor. And not only do you get all the pleasure of devouring that garlicky crispy crust, the brown bits in the pan from the searing* is the base for an incredible pan sauce that takes 1 1/2 minutes to make. In all honesty, when it comes to stress free quick and easy meals with chicken, go chicken thighs all the way. It's juicier so easier to cook, less prone to drying out because you overcooked it by 90 seconds, can be cooked with less oil and it has better flavour than breast.
Ingredients:
700 g / 1.2 lb skinless boneless chicken thighs (5 to 6)
1 tsp garlic powder
Salt and pepper
1 tbsp olive oil
1/2 cup / 125 ml dry white wine (or broth or water)
25 g / 2 tbsp unsalted butter
2 large garlic cloves , minced
Finely chopped parsley , optional