Soft & Chewy S'mores Cookies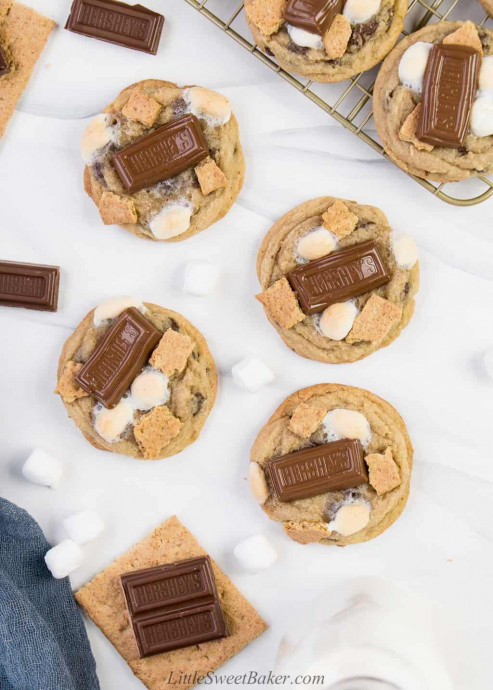 These s'mores cookies are soft and chewy in the center and loaded with chocolate chips. They are topped with gooey marshmallows, crunchy graham crackers, and Hershey's milk chocolate. They are the perfect treat that the whole family will enjoy! Why this recipe is so great:
Easy to make – Simply mix everything together, top with s'mores ingredients, chill the dough for 1 hour, and bake for 10 minutes – that's it!
Fun for kids – My kids love helping to make these s'mores cookies. I get them to break up the graham crackers, tear up the mini marshmallows, and top the cookies any way they want (which usually means way too many toppings, but that's ok).
Oh so good! – These cookies taste like you're eating the perfect chocolate chip cookie and s'more at the same time! The cookies are soft and chewy and the toasted marshmallows, graham crackers, and Hershey's chocolate on top give it an authentic s'mores taste.
Ingredients:
1 & 3/4 (220g) all-purpose flour
1/2 tsp baking soda
1/2 tsp baking powder
1/4 tsp salt
1/2 cup (114g) unsalted butter, room temperature
1/2 cup brown sugar
1/2 cup white sugar
1 large egg
1 tsp vanilla
1 cup semi-sweet chocolate chips
4 graham crackers, broken into small pieces
1/2 cup mini marshmallows, torn or cut in half