Breakfast Grilled Cheese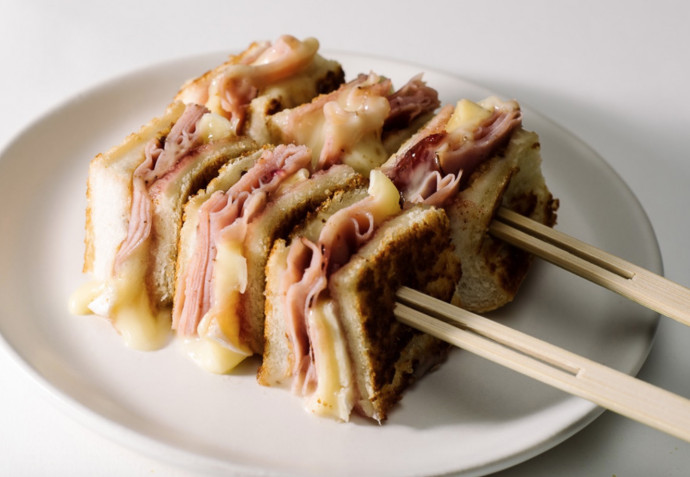 This sandwich is a salty-sweet party in your mouth with whole grain mustard, black forest ham, cherry jam, and brie. I think brie was one of my first "fancy" cheeses. Keep in mind, as a child the only cheese in the fridge was Kraft singles. I still get extremely nostalgic when I see those pre-wrapped orange squares. Since then, I've expanded my cheese tastes just a little. I don't know where or when I first tried cheese other than Kraft, but I do remember how my first bite of brie was, like Lucky Charms, magically delicious.
Brie is silky smooth creaminess. It's mild and melty, which lends itself well to bold flavours and grilled cheese. This sandwich was, as Joy says, is "utterly inspired" and perfect for an easy, breezy brunch. I cut my sandwich up in to teeny-tiny squares and skewered them for fun because if I can put food on a stick, I will. I imagine these guys would be super popular at a cocktail brunch party. Which is totally a thing, right? Please excuse me while I go plan out the menu (and my outfit!) for a fancy, standing room only cocktail brunch party.
Ingredients:
2 thick slices brioche bread or bread of choice
1 tablespoons whole grain mustard
3-6 thin slices black forest ham
1 tablespoons cherry jam
2 ounces brie
butter, for the pan.