Homemade Nacho Cheese Fries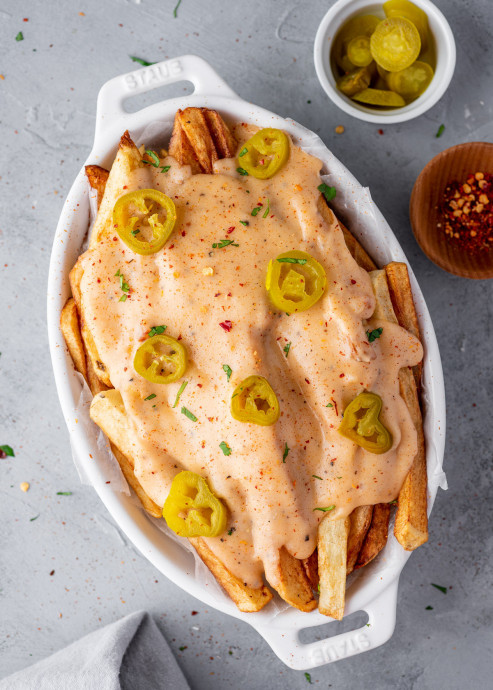 Crispy Fries with Cheesy Homemade Cheese Sauce are the ultimate comfort food. They make a delicious side or a quick midnight snack/meal.
There is nothing more addictive than cheese fries. When I eat something fried, I make sure it tastes good so that I know it's worth the calories and these cheese fries do not disappoint.
Before a friend of mine told me about this recipe, I used to try melting the Cheese in the Microwave but as soon as we started eating it the cheese was already firm and uncheesy. This nacho cheese stays nice and runny and makes the perfect topping. The Potatoe: Can you use any type of potatoes you have on hand but russet potatoes typically make the best fries. You can peel them or simply cut them with the skin.
The Milk: For the milk, you can use any type of milk desired. Non-dairy milk such as almond or coconut will also work. For the creamiest sauce, try to use whole milk or milk with a higher fat percentage. Half & Half also works great.
The Cheese: The cheese is the essential part of the cheese sauce. I recommend using cheddar cheese or a blend of cheddar and mozzarella or Italian cheese. Freshly grated cheese is preferred over the pre-shredded cheese because it does not contain anti-caking agents which might make your sauce grainy.
Ingredients:
French Fries
3 russet potatoes
oil for frying
1/2 teaspoon salt
Nacho Cheese Sauce
1/2 cup Shredded Mozerella cheese or swiss cheese, or mozzarella
1/2 cup Shredded Cheddar Cheese or yellow squares, or white squares
1/2 cup milk
1 teaspoon pepper
1/2 teaspoon salt
1 teaspoon
1/2 teaspoon corn starch
1 teaspoon optional