Swedish Meatball Meatloaf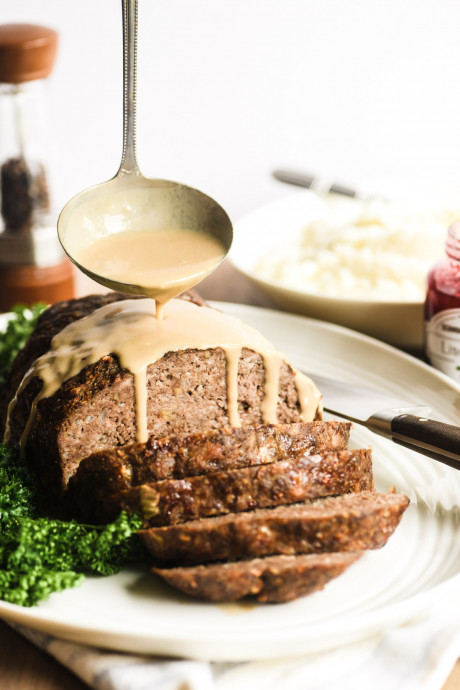 Swedish meatball meatloaf is juicy and delicious, complete with gravy and lingonberry jam. This cozy family meal is also perfect for the holidays!
Meatloaf has a reputation for being bland and boring, but it's really the perfect canvas for all sorts of exciting variations. Depending on what you mix into it, and what you slather on top of it, meatloaf can be not only cozy and comforting, but a super cool, unexpected meal.
This recipe is fabulous, and takes no more effort than the same old loaf you've been making for years. It's basically a giant Swedish meatball, complete with all the trimmings. Swedish meatballs are made with a combination of beef and pork, spiced with white pepper and allspice. The meatballs are always served swimming in a nutmeg scented creamy gravy that makes the dish so special. Meatloaf is fairly straightforward and is pretty hard to mess up, but there is one tip that I swear by. It makes the whole process so quick and effortless! I use my stand mixer to blend up the meat mixture. Since this recipe calls for 3 pounds of ground meat, plus other ingredients, it's quite a bit to blend.
Ingredients
meatloaf
1/2 yellow onion, peeled and minced
2 lb ground beef
1 lb ground pork
2 eggs
1 cup dried bread crumbs
1 cup mashed potatoes
2 tsp salt
2 tsp white pepper
2 tsp allspice
2 Tbsp butter, soft
gravy
2 Tbsp unsalted butter
2 Tbsp all purpose flour
2 cups beef stock or broth
1 tsp Worcestershire sauce
1 tsp soy sauce
1/2 tsp salt Note: add more or less to taste, this will depend on how salty your broth is, and whether you used salted butter)
1/2 tsp ground white pepper
1/4 tsp nutmeg, or more to taste (freshly ground, if possible!)
1/2 cup sour cream
1/3 cup minced fresh parsley