Shortcut Chocolate Croissants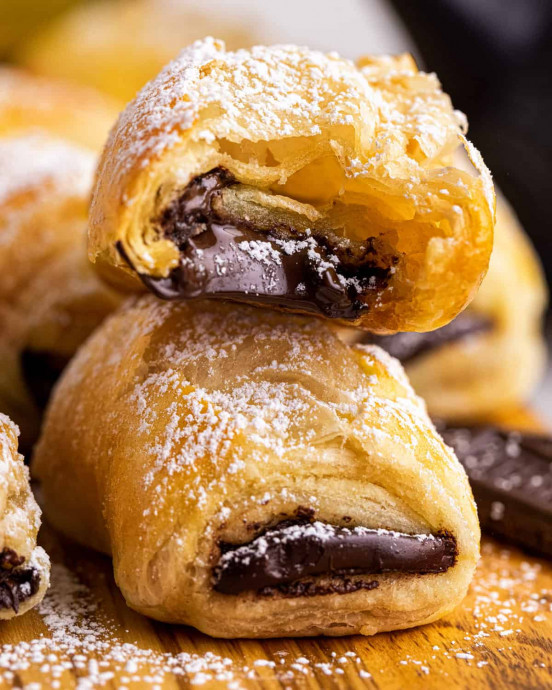 This shortcut version of the French classic, chocolate croissants, or pain au chocolat, is sinfully delicious right out of the oven! Store-bought puff pastry dough makes this recipe accessible to bakers of all confidence levels, and they're a perfect weekend breakfast treat!
Chocolate croissants, or sometimes referred to as Pain Au Chocolat, is simply chocolate wrapped up in a delicious pastry dough.
Puff pastry is the dough usually used, and while absolutely delicious, it can be labor-intensive to make at home, not to mention intimidating to newer bakers.
So I've used store-bought puff pastry dough to take that intimidation factor out, plus it saves you a ton of time. And they still taste amazing!
I'm working on an easy, shortcut to homemade puff pastry dough, but until then, a box of the frozen dough works wonders.
This chocolate croissant recipe uses just 4 base ingredients, plus the optional powdered sugar dusting, so I promise, it's super easy! If you have kids, this is a fun recipe to make with them, or have them make themselves.
Ingredients:
17.3 oz package frozen puff pastry sheets (like Pepperidge farm brand)
4 (1.55 oz each) Hershey's special dark chocolate candy bars
1 large egg
1 Tbsp water
powdered sugar for dusting, optional