Guinness Irish stew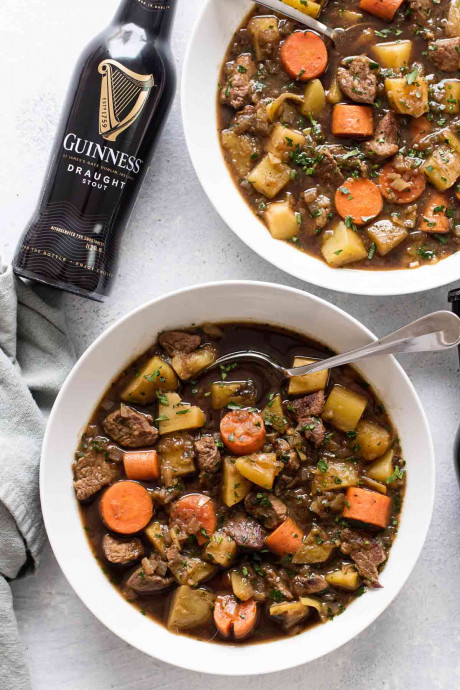 This Guinness Irish stew is simple and full of flavor with stout beer, tender lamb, carrots, and onions. This easy stew recipe is ready in about an hour and a half – pair it with crusty bread for a cozy comfort food dinner.
Cutesy holiday-themed recipes are not something I tend to gravitate to, but a holiday-themed stew? Sign me up. And a stew made with beer? Double sign me up, please.
And that's what we have here today, a simple Irish stew made with Guinness stout, tender lamb, potatoes and carrots. It's not complicated, it's totally delicious and it's perfect for St. Patrick's Day or any day you want a comforting bowl of savory goodness.
Traditionally, Irish stew is made with lamb or mutton which is meat from an older sheep. Lamb is readily available at most grocery stores while mutton… not so much.
The best cut of lamb for stew is the shoulder which is ideal for braises and stews. At regular grocery stores, you can usually find packages of lamb stew meat which is the shoulder already cut into chunks.
The other thing about traditional Irish stew is that it's simple. It doesn't have a lot of bells and whistles – just a simple combination of meat, vegetables, and water simmered together until the lamb is tender.
So, my version isn't exactly authentic because I add stout beer which adds to the stews depth of flavors, and because, you know, it's St. Patrick's Day. You need a little kitsch and adding some traditional Irish beer is a nice way to add an Americanized Irish spin on the whole thing.
Ingredients:
1 tablespoons vegetable oil
1 pound lamb stew meat, cut into 1-inch pieces
1 1/2 teaspoons kosher salt, divided
1 yellow onion, diced
2 1/2 cups water
24 ounces Guinness beer
1 pound carrots, cut into 1" coins
1 pound Yukon gold potatoes, cut into 2-inch pieces
1/4 teaspoon black pepper
1/4 cup finely chopped parsley