Classic Sliced Pot Roast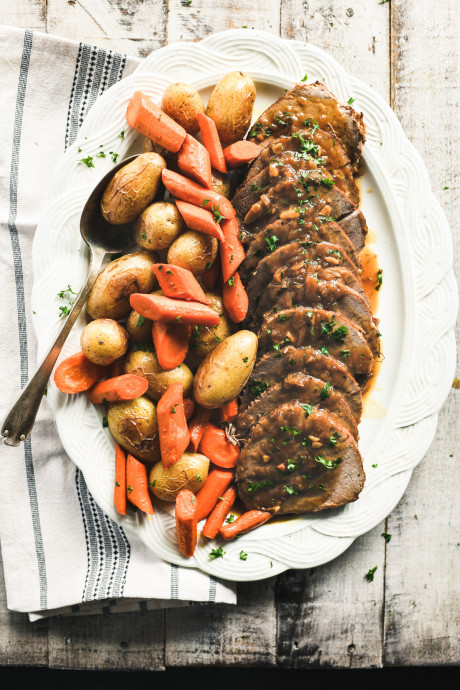 How to make a classic sliced (not shredded!) pot roast for that tender, succulent braised beef of your dreams. This is the ultimate meal for comfort food lovers. Pot roast is beef (usually a tougher cut) that is braised low and slow in a pot with added liquid, which eventually becomes the gravy. The end result is so tender it literally falls apart, so it's most often served shredded because it cannot be neatly sliced. But it doesn't have to be that way!
I grew up with sliced pot roast, it's how my mom always made it and I came to love it that way. Plus, I think it's a little nicer presentation on the plate. I'll share with you my tips and tricks to getting those perfect slices that fall apart at the touch of your fork, not your knife!
Ingredients:
3 1/2-4 lb eye of round beef roast
salt and fresh cracked black pepper
2 Tbsp vegetable oil or shortening
1 yellow onion, peeled and thinly sliced
2 large shallots, peeled and thinly sliced
3 cloves garlic, peeled and smashed
2 Tbsp sherry
2 cups beef stock
1 cup fresh apple cider
herb bundle
1 1/2 Tbsp Wondra flour (a quick dissolving, no lump flour)