Keto Chicken and Dumplings Recipe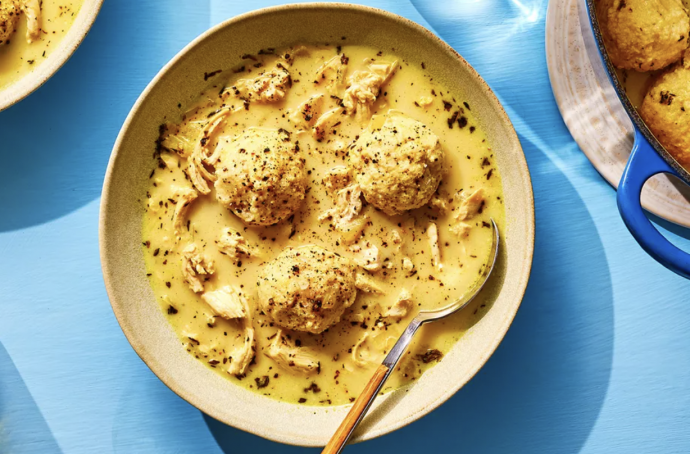 Chicken and dumplings is a homey, comforting dish that's perfect for a chilly autumn or winter evening. This creamy soup is loaded with shredded chicken and individual dumplings, which are boiled right in the soup pot for the easiest prep. Onion, sage, and thyme give it a wonderful flavor that the entire family's sure to enjoy.
Unfortunately, wheat flour is the main ingredient in traditional dumplings. They're high in carbs, and that is not suitable for people following a keto diet. A few revisions were necessary to bring you a recipe for keto chicken and dumplings. In addition to being low carb, it's also gluten-free, grain-free, and suitable for paleo and Whole30 dieters.
To make the dumplings, wheat flour is swapped out for keto-friendly flours that are made with almond meal and coconut. Xanthan gum is the key ingredient that ensures they'll hold together while boiling. The result is a dumpling that is tender, springy, and wholesome. Along with dishes like keto pulled pork, it's bound to be a part of your low-carb winter staples.
Ingredients:
For the Dumplings:
1 1/2 cups almond flour
1/3 cup plus 1 tablespoon coconut flour
1 teaspoon xanthan gum
1 teaspoon baking powder
3/4 teaspoon kosher salt
1 large egg
2 tablespoons unsalted butter, melted
1/2 cup unsweetened non-dairy milk, such as almond milk
For the Soup:
1 tablespoon unsalted butter
1 cup diced onion
1 teaspoon dried thyme
1/4 teaspoon dry, rubbed sage
1/2 teaspoon kosher salt
1/8 teaspoon freshly ground black pepper
8 cups chicken broth
3 cups shredded cooked chicken
1/3 cup heavy whipping cream