Tomato And Roasted Red Pepper Soup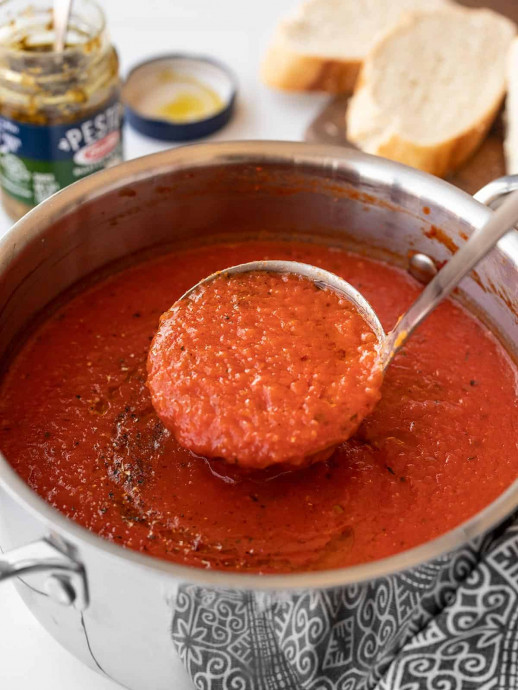 Quick tomato soup has always been one of my favorite comfort foods, and this time I upped the game by adding a jar of smoky roasted red peppers and a butter-and-flour roux to give the soup extra body and richness. I just love the simplicity of this Tomato and Roasted Red Pepper Soup. All you need is a loaf of crusty French bread for dipping and you've got a simple, yet luxurious meal.
You definitely want some sort of crusty bread, Homemade Croutons, Grilled Cheese, or Pesto Cheese Toast to dip into this awesome soup (pictured with plain pesto smeared toast). A really light and simple side salad would also be a nice way to round out this meal. If you want to get really fancy, you can drizzle a little bit of olive oil or pesto over each bowl of soup for extra color and flavor.
To make pesto toast, just mixed a little extra olive oil into the pesto to make it more spreadable, coated slices of my French bread, then baked at 400ºF for 7-8 minutes.
Ingredients:
1 yellow onion
4 cloves garlic
2 Tbsp butter
2 Tbsp all-purpose flour
1 12oz. jar roasted red peppers, drained
1 28oz. can crushed tomatoes
1/2 tsp dried basil
1/4 tsp dried thyme
1/4 tsp freshly cracked black pepper
2 cups vegetable broth