World's Best Nanaimo Bars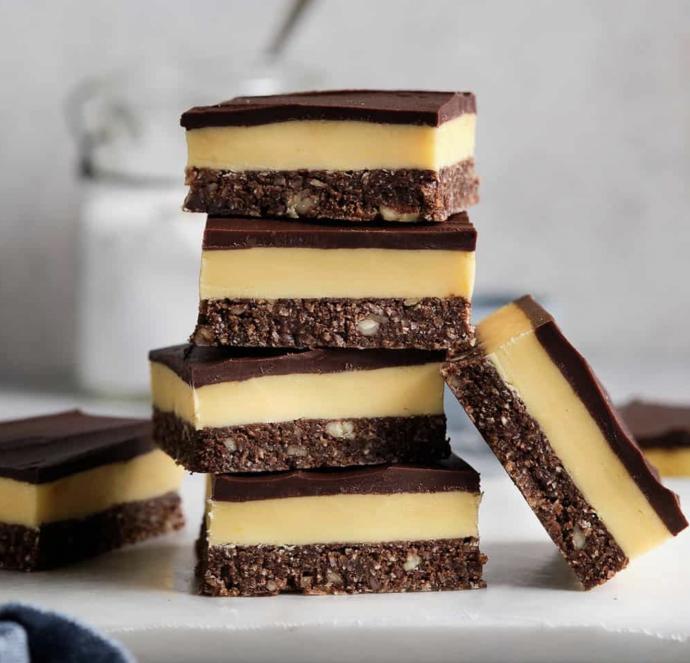 These classic Nanaimo bars are one of Canada's most popular desserts. They have a fudgy chocolate and coconut cookie base, a creamy custard buttercream filling, and a smooth chocolate ganache on top. Every bite is like a taste of heaven that will keep you coming back for more!
Nanaimo bars are a no-bake dessert consisting of three distinct layers: a chocolate-coconut graham cracker base, a custard buttercream filling, and chocolate ganache on top. Each layer is extremely different from one another, but put together it's like a trifecta effect of flavours and textures, which is what makes this dessert so unique and amazing.
A classic made even better – Keeping things as authentic as possible, there are just a few minor tweaks I made to the original recipe:
Added more custard powder for more flavour and made the center part thicker for a better filling-to-crust ratio.
Increased the amount of chocolate on top for a slightly thicker chocolate ganache layer.
Used pecans instead of almonds because pecans are much easier to finely chop and provide a better flavour.
Used heavy cream in the ganache instead of butter for a creamier top layer that is easier to cut.
Keeps well – These bars will last up to a week refrigerated and they freeze really well up to 3 months. Simply thaw overnight in the fridge and they are good as new.
Ingredients:
½ cup (113g) unsalted butter
¼ cup (50g) sugar
5 tbsp (30g) unsweetened cocoa powder
¼ tsp salt
1 large egg, lightly beaten
1 ¾ cup (180g) graham cracker crumbs
½ cup (50g) pecans, finely chopped
1 cup (85g) unsweetened finely shredded coconut
½ cup unsalted butter, softened
3 tbsp custard powder
½ tsp vanilla
3 cups (375g) powdered sugar
3 tbsp heavy cream (plus 1-2 tsp only if needed)
6oz semi-sweet chocolate, chopped
3 tbsp heavy cream