Easter Cookies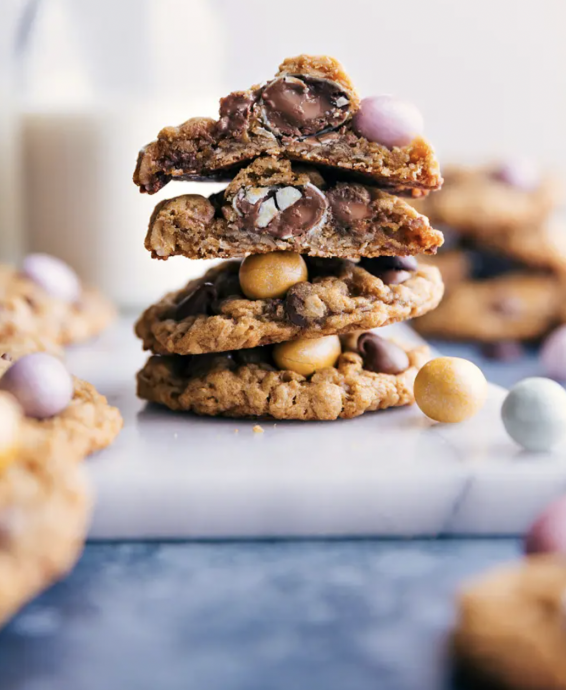 These festive Easter Cookies are rich, sweet, soft, and chewy! Thanks to a "secret" ingredient — molasses –they have a deep toffee flavor, with bright pops of sweet milk chocolate and crunchy Cadbury® eggs.
I couldn't be more excited to share these oatmeal Easter cookies with you all — they are my favorite oatmeal cookies to date! After creating these Gingersnap Cookies this last year, I knew I had to find another way to incorporate molasses into cookies — it is crazy what that ingredient does to the flavor of cookies! It adds rich caramel and toffee-like notes of flavor and an insane amount of chewiness. I love a good chewy oatmeal cookie with a deep toffee-like flavor, so oatmeal cookies are the perfect place to add molasses.
It's just a small amount, but you'll be amazed at what it does for flavor and texture in these Easter Cookies!
The molasses in these cookies is not overpowering (there isn't a whole lot of it). Instead of making these cookies taste like molasses, it lends a subtle caramel or toffee-like flavor. The molasses is also the "secret" to keeping the cookies soft and chewy in the center. And, finally, the molasses adds a bit of sweetness to these Easter Cookies.
Ingredients:
8 tablespoons (113g) unsalted butter, melted melted
1/2 cup (92g) light brown sugar packed
1/4 cup (44g) dark brown sugar packed
1 large egg
1 teaspoon vanilla extract
1 tablespoon molasses Note 1
1-1/2 cups (145g) old-fashioned oats (don't use quick oats)
1/2 teaspoon EACH: baking soda, baking powder, fine sea salt
1 cup (135g) all-purpose white flour Note 2
3/4 cup (135g) chocolate chips Note 3
1/2 cup (100g) mini Cadbury eggs Or Easter M&M's