Coconut Cheesecake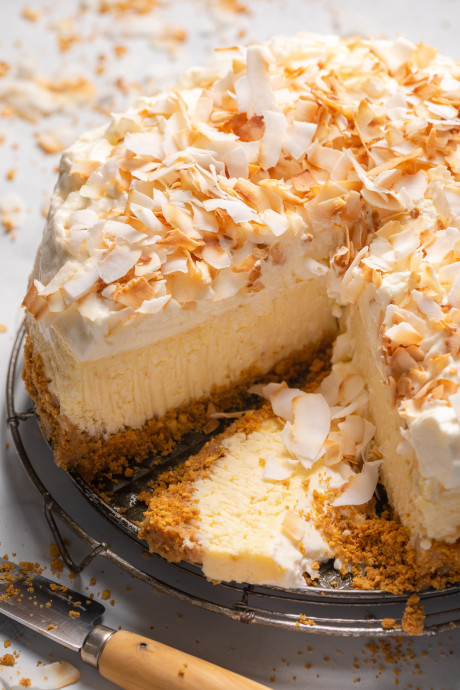 This Creamy Coconut Cheesecake is made with coconut milk, coconut extract, and shredded coconut, so you know it's loaded with refreshing coconut flavor! The crunchy graham cracker crust is the perfect contrast to the creamy filling and fluffy whipped cream topping. A must try for coconut lovers!
Coconut is one of the most underrated flavors in baking! Which is a real shame. Because it's such bright and refreshing flavor, and really works well year-round! I just love it. And I know from past recipes, you love it, too!
So today we're balancing the scales and shining a light on this often overlooked flavor! Say hello to creamy coconut cheesecake! It's ultra rich, perfectly dense, delightfully creamy, and topped with whipped coconut cream and toasted coconut! One bite will have you hooked!
Ingredients:
For the Graham Cracker Crust:
2 cups (198 grams) graham cracker crumbs finely crushed
1/3 cup (67 grams) granulated sugar
6 Tablespoons (85 grams) unsalted butter melted
For the Coconut Cheesecake:
4 8 ounce packages (924 grams) full-fat cream cheese at room temperature
1/2 cup (113 grams) full-fat sour cream at room temperature
1 and 1/4 cups (248 grams) granulated sugar
1 teaspoon (4 grams) coconut extract
1/2 teaspoon (2 grams) vanilla extract
4 large eggs at room temperature
2 large egg yolks at room temperaure
1 cup (227 grams) Thai Kitchen Unsweetened Coconut Milk mixed well before measuring
1 cup (84 grams) unsweetened coconut finely shredded
For the Coconut Mousse:
1 cup (227 grams) heavy cream cold
1/4 cup (28 grams) confectioners' sugar sifted
1 teaspoon (4 grams) coconut extract
2 Tablespoons Thai Kitchen Unsweetened Coconut Milk mixed well before measuring
6 ounces (170 grams) full-fat cream cheese at room temperature
1 cup (84 grams) coconut flakes lightly toasted