Maple Oat Nut Banana Bread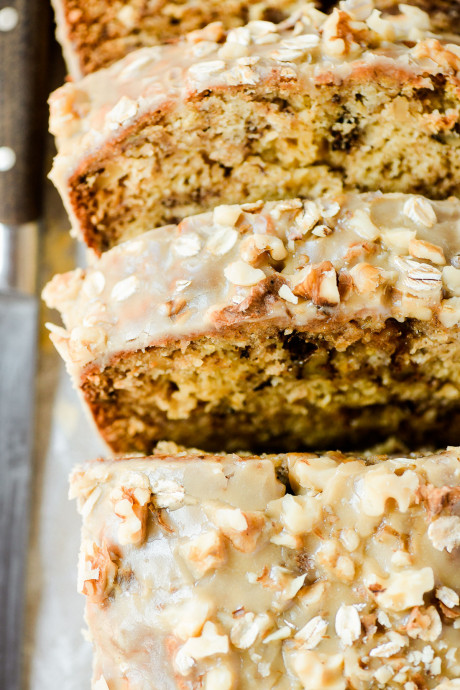 Maple Oat Nut Banana Bread is an easy banana loaf cake with a warm maple icing ~ perfect for breakfast, coffee break, or after school snacking. This recipe will zhush up your basic banana bread in the best way.
Cinnamon, oats, maple, walnuts, banana ~ could there be a more cozy and comforting way to welcome the fall baking season with open arms? If you're a banana bread lover, or a maple oat nut lover, I hope you're salivating now, this banana bread is a definite step up from your average loaf. It's got a lot going on, but all the flavors complement each other beautifully.
They were my all time favorites and I was so disappointed when they were discontinued. Every fall since then I've been recreating that amazing flavor combination in my kitchen.
Ingredients:
1/2 cup (1 stick) unsalted butter, softened
1 cup granulated sugar
1/4 cup brown sugar
2 tsp vanilla extract
1 Tbsp maple syrup
1/2 tsp cinnamon
2 large eggs
1 1/2 cups mashed bananas (that was 3 bananas for me)
1/3 cup rolled oats
1 tsp baking soda
1/4 tsp salt
2 cups all purpose flour
1/2 cup chopped walnuts
maple glaze
1/4 cup butter
1/2 cup maple syrup
1/4 tsp maple extract (optional)
1 1/2 cups confectioner's sugar, sifted
rolled oats
chopped walnuts