Bourbon Chicken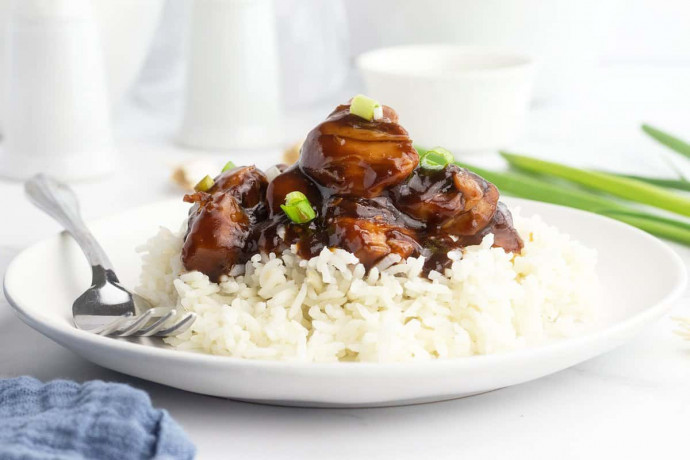 Bourbon makes all things better, so why not combine it with chicken? This recipe for bourbon chicken is pretty simple and cooks up easily for a fast dinner! Bourbon chicken is a recipe that you can just tell came about from a late-night need to make something tasty really quickly. Mixing together soy sauce, sugar, apple juice, and Bourbon somehow turns a regular chicken thigh into something intensely delicious.
Serve this sticky, slightly sweet chicken over some rice to provide some great balance, or just enjoy it with a spoon, sauce, and all.
Whenever you get a chicken recipe that doesn't just use an entire roast chicken, there is always the inevitable question of what kind of chicken pieces should you use?
The general toss-up is between chicken breasts or chicken thighs. While chicken breasts are healthier and cook a bit faster, for this sort of recipe, you really need to stick to chicken thighs.
The longer cooking times really benefit something like a chicken thigh because it allows the natural collagen and fat to break down and thicken the sauce. If you tried to use a chicken breast, however, you'd just end up with really dry, stringy chicken that simply wouldn't taste any good.
Ingredients:
8 chicken thighs boneless, skinless and cut into one inch pieces
salt and pepper
2 Tablespoons olive oil
Bourbon Sauce
1/4 cup bourbon
1/4 cup low sodium soy sauce
1/4 cup brown sugar
1/2 cup chicken broth
1/4 cup apple juice
2 tablespoons ketchup
3 garlic cloves minced
1 teaspoon fresh ginger grated
1 tablespoon apple cider vinegar
1/8 teaspoon red pepper flakes
1 tablespoon cornstarch
cornstarch slurry