Salmon with Avocado Salsa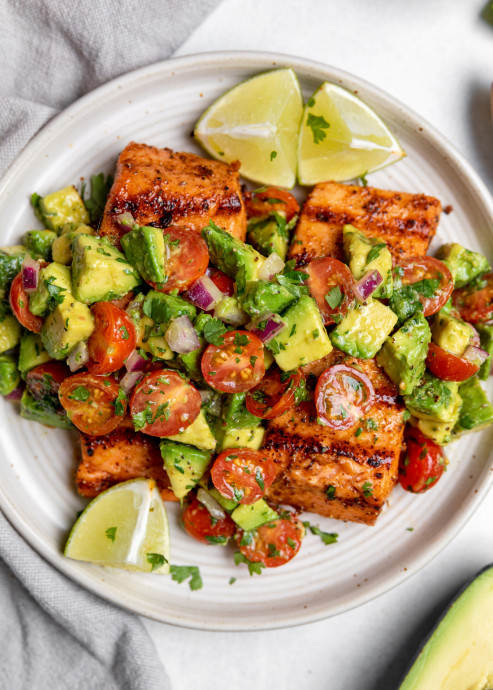 Tender salmon with cilantro, lime, avocado, and tomato salsa. This healthy and flavorful meal is bursting with flavor, color, and texture and is ready in under 20 minutes. It can be grilled, pan-seared or baked! Cooking salmon for dinner is always convenient because it cooks super fast and makes a healthy dinner in minutes. One of the biggest mistakes people make when cooking salmon is over-cooking it. Salmon is very delicate and can easily over-cook. The trick to making perfectly cooked salmon is to season it well and cook it on medium-high just until almost cooked through. It will continue to cook after it is removed from the heat.
The salsa comes together in minutes and makes a great addition to the salmon. Serve the salmon and avocado with rice, on salad greens, or alone like I did!
Ingredients:
2 4-6 oz salmon fillets
2 tablespoons olive oil
1 clove garlic minced or crushed
1/2 teaspoon
1/2 teaspoon
1/2 teaspoon onion powder
1/4 teaspoon black pepper
1/4 teaspoon salt
1 ripe avocado pitted and diced
1/2 cup tomato diced (any type of tomato)
2 tablespoons onion diced
2 tablespoons cilantro minced
1 tablespoon olive oil
1 tablespoon lime juice
salt and pepper to taste