Mexican Street Corn Chicken Salad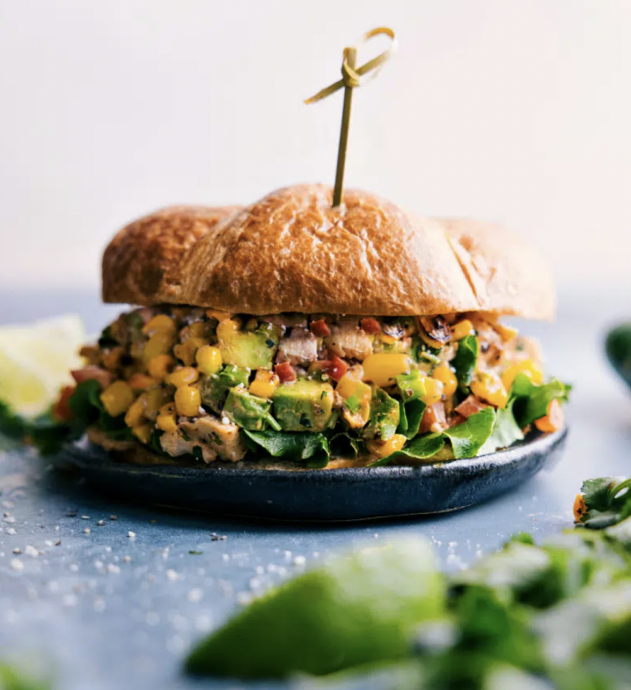 This Mexican Street Corn Chicken Salad is the perfect mash-up of two of the all-time best recipes — Mexican Street Corn and Chicken Salad! Tender chicken, smoky, charred corn, creamy avocado, and crisp peppers get tossed in a chili-lime dressing and slathered on bread — doesn't get much better than this!
It's no secret we're obsessed with the flavors of Mexican Street Corn — this Mexican Street Corn Pasta Salad, these Street Corn Loaded Sweet Potatoes, and Chicken Corn Chowder are a few of many recipes channeling those beloved flavors.
And today they're getting directed into another favorite — chicken salad! I don't think I'll ever tire of a good chicken salad sandwich, but especially not when it's also quelling the cravings for street corn!
Mexican Street Corn Chicken Salad is loaded with flavor and has the perfect contrasting textures — from crisp corn to creamy avocados! The chili-lime dressing is a combination of spices, fresh lime juice, and good mayo. The dressing's flavor is truly the best compliment to the smokiness of the charred corn.
Speaking of corn, don't worry — you don't need fresh sweet corn to make this salad! Below we're sharing all the different options available so you can enjoy this salad regardless of the season!
Ingredients:
3 cups frozen corn
3 cups diced rotisserie chicken
1 large red bell pepper, finely diced
1/4 cup each: finely chopped cilantro, green onions
1 tablespoon finely diced jalapeño, optional
1 large ripe avocado, diced
Dressing
1/2 cup full-fat mayo
1-2 large juicy limes
1/2 teaspoon each: chili powder, paprika
1/8 teaspoon ground cumin
1 teaspoon Sriracha or hot sauce
Salt & Pepper
For serving: croissants or sandwich bread & lettuce OR chips/tostada shells, Cotija cheese