Minestrone Soup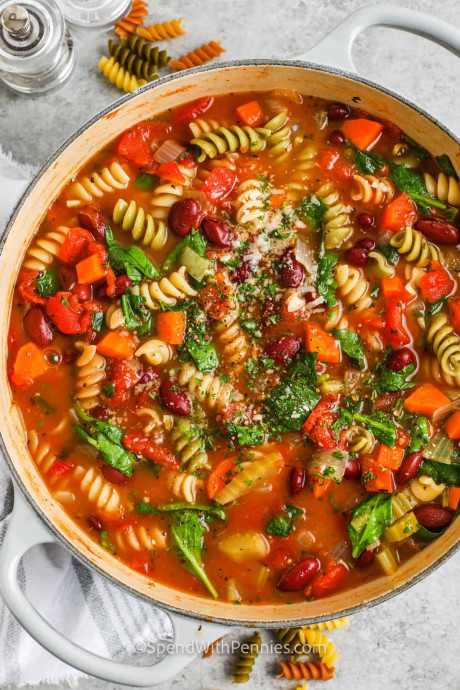 Minestrone Soup is an Italian classic packed with vegetables, pasta, kidney beans, and tomatoes in a richly seasoned tomato broth.
This soup is easy to make and reheats well for lunches or quick dinners throughout the week. It's simple but warm and cozy when everyone's craving a belly-warming meal!
Minestrone soup is an Italian favorite. A flavorful tomato-based broth is packed with hearty goodness from vegetables, beans, and pasta or rice. It's often served as a first course but makes a great hearty meal too. While you may have tried this soup at Olive Garden, it's even better made at home. Make it into a vegetarian Minestrone by substituting the broth. Serve with a chunk of homemade bread or French bread. If you're planning for leftovers, cook the pasta separately and add it to each bowl individually. If pasta is cooked with the soup, it will get mushy if it sits in the fridge overnight or is frozen so drain it and store it separately.
If cooking the pasta separately, be sure to salt the pasta water or cook it in broth for the best flavor.
Ingredients:
1 tablespoon oil
3 large carrots finely chopped
2 stalks celery sliced
½ medium onion finely diced
1 teaspoon garlic minced
1 teaspoon dried parsley
1 teaspoon dried oregano
1 teaspoon dried basil
½ teaspoon salt
⅛ teaspoon black pepper
28 ounces canned diced tomatoes with juice
4 cups low sodium chicken broth
540 ml canned red kidney beans rinsed (about 2 cups)
1 ½ cups Rotini pasta dry
2 cups fresh spinach finely chopped
Parmesan for serving, shredded or grated