Baileys Irish Cream 'n Coffee Bundt Cake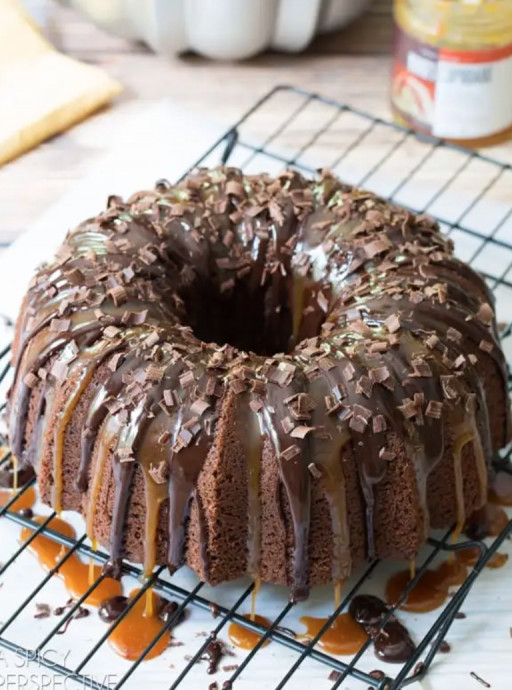 Holy Irish Cream and Coffee! If you like a splash of Baileys Irish Cream in your Coffee… you are going to want to kiss my face for this Irish Cream 'n Coffee Bundt Cake. Guaranteed.
Just imagine it… Your two hands wrapped around a large mug of piping hot coffee, with a hefty swirl of Baileys Irish Cream, topped with whipped cream, chocolate, and caramel drizzle.
You sip and the creamy sweetness (and caffeine) massages your throat on the way down, like a hug from the inside-out.
That, my friends, is what I'm serving you today, in bundt cake form. Coffee. Chocolate. Caramel. And silky Baileys Irish Cream all baked into one glorious cake to share with friends. This Baileys Irish Cream Bundt Cake is truly one of my favorites! It's rich and comforting, with a note of boozy coffee in each bite. Along with waiting, it's highly important to make sure your pan is well greased and floured. I like to spray bundt pans with the non-stick baking spray that is made with flour, instead of buttering and flouring the nooks and crannies.
Ingredients:
2 cups all-purpose flour
1/4 cup unsweetened cocoa powder
1 1/2 cup granulated sugar
3 tablespoons instant coffee granules
1 1/2 teaspoons baking soda
1 teaspoon salt
1 cup unsalted butter, melted
1 cup Baileys Irish Cream liqueur
3/4 cup sour cream
2 large eggs
2 teaspoons vanilla extract
1/2 cup semisweet chocolate chips
1/4 cup heavy cream
1/2 cup thick cream of caramel or dulce de leche
2 ounces chocolate bar to shave over the top