Blueberry Crumb Cake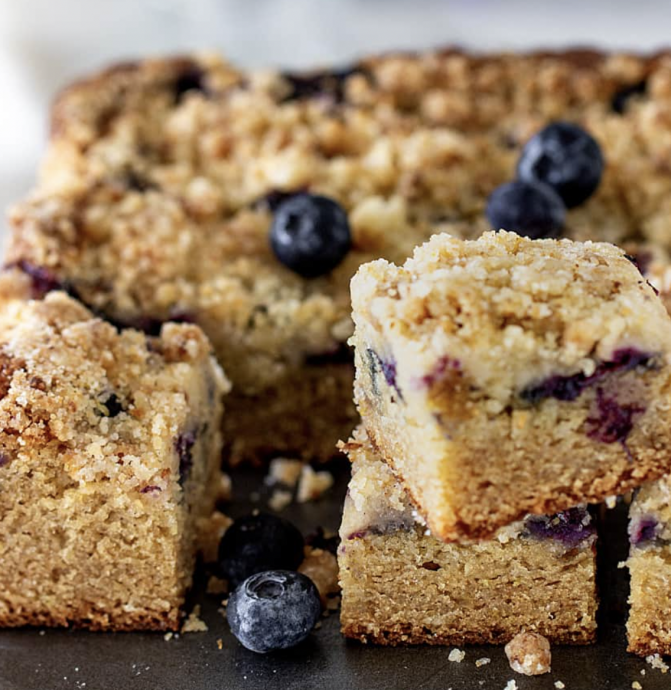 This very easy cake needs to happen in your kitchen asap. It's a moist layer of lemon cake with fresh blueberries and a streusel topping made with oil that is crunchy and so amazing! Both the cake and crumble are made from the same mixture. An easy one-bowl recipe!
A splash of sunshine in the middle of winter or a great summer recipe, this is a moist cake that tastes as good as it looks. Full of crunchy, juicy seasonal blueberries, tangy lemon zest and juice, and a tender crumb that is ridiculously easy to make.
This cake is made from a crumb mixture that's divided, some for the topping, and the rest mixed with a few other ingredients to make a sort of coffee cake. Well, it's truly amazing.And did I mention it's a one bowl recipe ? For some reason, I find it all very appealing.
Plus, there are some flavors that work year-round and on every occasion. Lemon paired with blueberries is one of them.
Ingredients:
2 cups all-purpose or cake flour
1 cup white sugar
½ cup packed brown sugar
Grated zest of 2 lemons
½ teaspoon ground cinnamon
½ cup vegetable oil
2 tablespoons fresh lemon juice
1 cup sour cream
1 large egg, at room temperature
1 teaspoon vanilla extract
1 teaspoon baking powder
1 teaspoon baking soda
AD
¾ cup blueberries, fresh or frozen
Powdered sugar, for serving