Strawberry lemonade mascarpone cheesecakes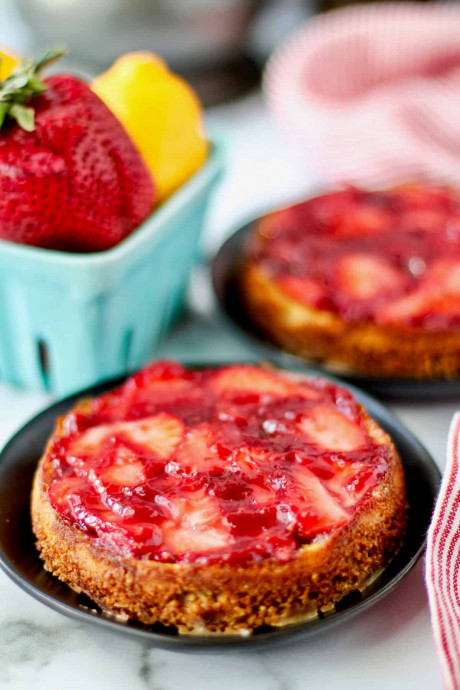 Strawberry lemonade mascarpone cheesecakes with a creamy and lemony mascarpone filling and a fresh strawberry topping.
The recipe for these little strawberry lemonade mascarpone cheesecakes makes just enough for two four inch desserts, which makes them perfect for a dinner for two.
You could also cut them into little wedges for a little taste for everyone in a larger group or for a dessert bar for a brunch, baby shower, or buffet. I actually think these would be a wonderful and elegant treat to serve after a multicourse sit down dinner for four, or even eight!
The mascarpone (Italian cream cheese) in the filling adds such an amazing creaminess, and the strawberry topping will remind you of fresh strawberry pie. While I think these are impressive, they are also super easy to make.
Strawberry season has begun here, and all of the growers' strawberry stands are again set up in every available vacant lot. We usually buy a flat a week because we love these fresh California strawberries so much... and each week they get sweeter and sweeter (and bigger!).
The first day of spring is perfect timing for making these cheesecakes.
Ingredients:
For the Glaze and Fresh Strawberries
4 ounces fresh strawberries
3 ounces of strawberry jam
2 tablespoons water
About 20 thin slices of fresh strawberries
For the Crust
1/2 cup oat graham or Graham cracker crumbs
1 teaspoon sugar
1/8 teaspoon cinnamon
1 tablespoon melted unsalted butter
For the Cheesecake Filling
2/3 cup (5 ounces) mascarpone cheese, room temperature
1/4 cup sugar
2 teaspoons all purpose flour
2 large egg yolks
1/2 teaspoon lemon paste
Zest of 1/2 lemon
Pinch of salt