Glazed Asian Meatballs With Cilantro Slaw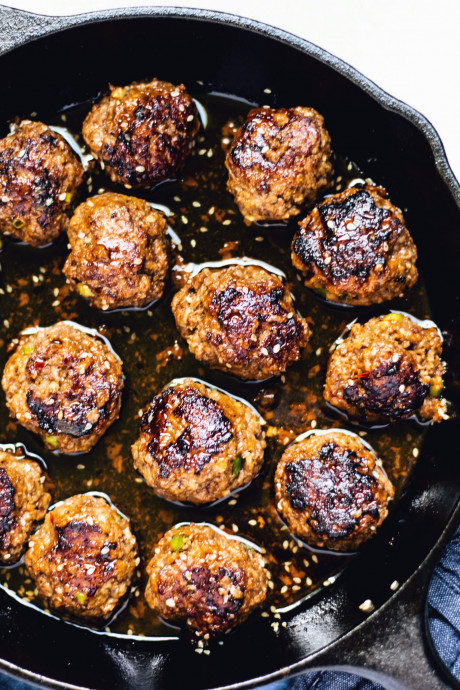 These succulent Asian meatballs are made with white miso, ginger, and garlic and finished in a soy glaze. They're perfect served with a crisp and spicy slaw.
Meatballs are quite a heated topic in my family. There are coveted Italian meatball recipes that are not shared, under any circumstances.
You can enjoy their tender, slow-simmered glory at family functions or holidays, but won't be able to make them yourself. Many have tried to guess their secret, but failed. Is it milk-soaked bread? A 50/50 pork/beef blend? What cheese is used? Or spices? Or herbs?
The world may never know. These meatballs are packed with tons of flavor. But first thing's first: The most important part of any meatball is the, well, meat! The glaze for these meatballs contains soy sauce, honey, rice vinegar, sesame seeds, and a pinch of red pepper flakes.
The result is a savory, slightly-sweet sauce with a little kick.
Ingredients:
2 cups shredded cabbage
1 cup shredded carrot
¼ cup chopped cilantro
½ lime, juiced
1 scallion, sliced
1 jalapeno, sliced
2 tablespoons olive oil
1 tablespoon rice vinegar
2 tablespoons sesame seeds
Salt and pepper, to taste
1 tablespoon plus 1 teaspoon grated fresh ginger
2 garlic cloves, minced
1 tablespoon sesame oil
2 tablespoons white miso
2 tablespoons milk
1 egg
1/2 teaspoon salt
2 scallions, finely chopped
¼ cup panko breadcrumbs
1 pound ground beef
3 tablespoons reduced-sodium soy
2 tablespoons honey
1 tablespoon rice vinegar
1 teaspoon toasted sesame seeds
Pinch of red pepper flakes
Oil, for frying