Almond Joy Truffles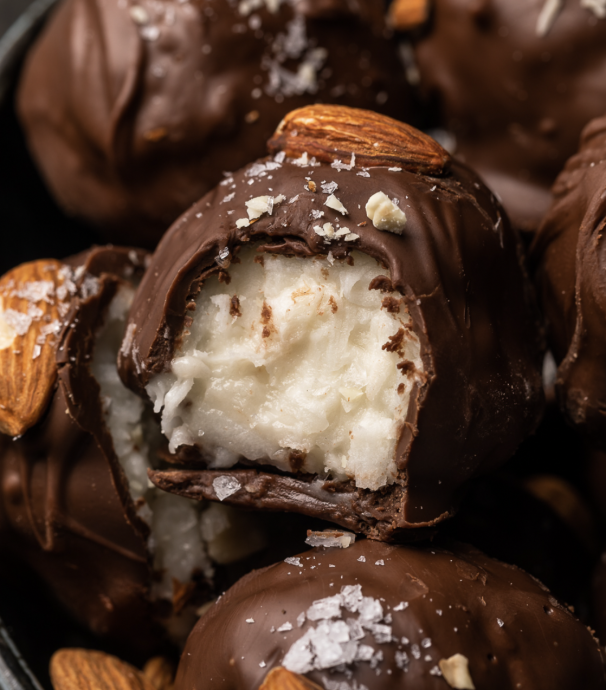 If you like almond joy candy bars, you'll love these almond joy truffles! The coconut mixture is so creamy, it almost tastes like cheesecake, and the rich robe of milk chocolate makes them so decadent! But feel free to dip in dark chocolate for a less sweet treat! They're quite similar to the popular almond joy candy bars, but in my opinion, a million times better! To start, they're not overly sweet. That's because unlike most almond joy truffle recipes that call for sweetened condensed milk, I use a combination of cream cheese, butter, and coconut oil.
Tips and Tricks for Recipe Success:
Room temperature butter and cream cheese are a must for this recipe! So be sure to set yours out on the counter about 30 minutes before you plan on getting your truffle on! If your house is on the chillier side, it might be closer to 45 minutes!
You will need an electric mixer for this recipe! The truffles can either come together in a large bowl with the assistance of an electric hand mixer, or can be made in the bowl of a stand mixer that's fitted with the paddle attachment.
To be prepared for the rolling and dipping stages, I suggest lining a large baking sheet with parchment paper before you begin. A wax paper lined baking sheet will also do the trick in a pinch! But I find parchment the more foolproof option!
If your powdered sugar looks lumpy, sift it before adding it to the coconut mixture. This ensures super smooth truffles.
To make uniform truffles, use a small spring loaded cookie scoop. I like to make 1 inch balls, but you can make them large or smaller depending on your preference.
Ingredients:
For the Almond Truffle Filling:
8 ounces (227 grams) full-fat cream cheese at room temperature
1/4 cup (57 grams) unsalted butter at room temperature
1/4 cup (57 grams) coconut oil solid, but soft enough to scoop
7 and 1/2 cups (848 grams) confectioners' sugar
1/2 teaspoon salt
1 teaspoon vanilla extract
1/4 teaspoon almond extract
12 ounces (340 grams) sweetened shredded coconut
48 whole almonds
For the Chocolate Coating:
20 ounces milk chocolate
1 Tablespoon (14 grams) coconut oil